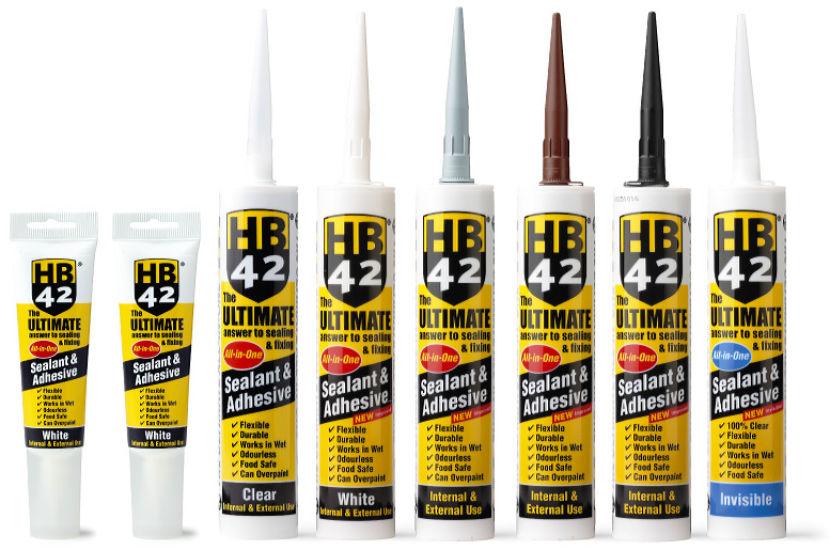 By teaming up with carefully-selected companies, BS Fixings id able to bring an even more extensive, diverse and cost-effective range of quality products to our customers. We are pleased and proud to announce our latest partnership with HB42, a leading manufacturer of sealants, adhesives and fillers.
HB42 has consistently proven the quality and reliability of its products for many years, a fact reflected in its 'approved' member status of both the BMF (Builders Merchants Federation) and the NMBS (National Merchant Buying Society). The range of HB42 products now available from BS Fixings includes:
Based on the latest generation of advanced hybrid polymer technology, this 'All-in-One' product delivers outstanding strength and adhesion for a wide range of applications. The formula, which can be used with equal success both indoors and out, is recognised for its low emissions and is designated as food-safe.
Whether used for sealing, sticking or filling, HB42 Ultimate Sealant & Adhesive boasts twice the initial bond strength of other comparable products whatever the substrate it is used on, even in wet conditions. Choose from six varieties (white, black, brown, grey, invisible or crystal-clear), each of which is supplied in 290ml cartridges.
Le Filla® by HB42 is an innovative and versatile product comprising a polyester filler paste designed to repair holes and other surface imperfections in almost any material. One of the key qualities of the formula is its short setting time: once mixed and applied, the formula sets to a rock-hard, exceptionally strong finish within 30 minutes, after which time it can be successfully planed, drilled or carved as required.
Ideal for use with plywood joints or as a modelling clay, HB42's Le Filla® can also be used for a variety of filling tasks on everything from door/window frames to car bodywork. The system is guaranteed to be weatherproof, allowing it to be used with equal success in both indoor and outdoor environments. Check out this week's edition of the BS Fixings blog for more details on using this versatile product.
These are just two of the HB42 products now available from BS Fixings: browse our website to discover many more.