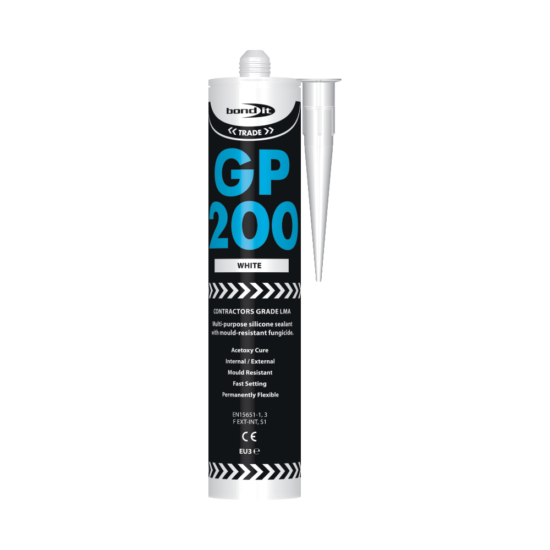 For nearly 20 years, Bond-It has been a respected manufacturer of a wide range of professional construction chemicals from adhesives and grouts to fillers and foams. BS Fixings are pleased to announce that we have added a selection of items from Bond-It to our vast, varied and versatile product portfolio.
One of the new items from the Bond-It brand has already proved to be a big hit among our customers: GP200 Multi-Purpose Silicone. You can find out more information on the product page (from where you can also download a data sheet) but here are the crucial details...
GP200 Multi-Purpose Silicone is a versatile, low modulus silicone rubber sealant that can be used for most sealing jobs
Perfect for use on kitchen work tops, bathrooms/showers/wet rooms and utility rooms as well as various applications in vehicles, caravans and more
The formula contains an added fungicidal ingredient to prevent the formation of mould
Quick and simple to use with a tooling time of no more than 10 minutes, the formula dries rapidly and has a tack-free time of under half an hour
Adheres well to most building materials, including glass and painted surfaces
Displays excellent resistance to the damage caused by ozone and UV radiation
Conforms rigidly to the specifications set out into BS EN 156511,3: 2012
Designed to work with both our standard and professional sealant guns
Available in a choice of four colours: white, black, brown or translucent
Sold by BS Fixings as single tubes or in a convenient and cost-effective bulk pack of 25 tubes
Check out this week's edition of the BS Fixings blog for a guide on how to effectively use Bond-It GP200 Multi-Purpose Silicone. For more news about Bond-It products coming soon, please subscribe to our VIP Club and regular newsletter.