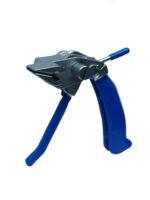 Stainless steel banding is nothing new but the basic idea continues to evolve and inspire new tools and ancillaries. One of these is the Bandfix Bantam Tensioning Tool, new to BS Fixings and available to purchase today.
The Bandfix Bantam makes applying stainless steel banding quicker and easier than ever before,delivering the fastest tensioning and cutting. Here are some of its features and user benefits;
The tools can be used with stainless steel strapping of 12.7mm (1/2") and 20mm (3/4") in width
Includes an innovative three-way 'pistol grip' handle which can be adjusted for one- or two-handed tensioning and cutting
Can be used on all grades of stainless steel banding and strapping
Perfect for use in confined spaces and areas of minimal access
Designed to save time, the Bantam makes loading and removing of material a simple, reliably fast process
To improve resistance to corrosion, the tool has been zinc plated, giving it a long service life even when used in demanding environments
Ideal for use with the Banfix range of safe edge stainless steel banding in grade 304 and 316 metal
Full instructions supplied with the tool and a video on the product page
Stainless steel banding is one of the most versatile products available from BS Fixings, with literally hundreds of different uses. Using the Bantam tool is easy; after simply placing the wing seal on the banding and folding it, the band is threaded around the object and tensioned using the pistol grip handle. The top handle is then used to cut off any excess material and the job is complete!
Find out all the details and check out our Contact us if you need any further information on the new Bantam banding tool from BS Fixings.