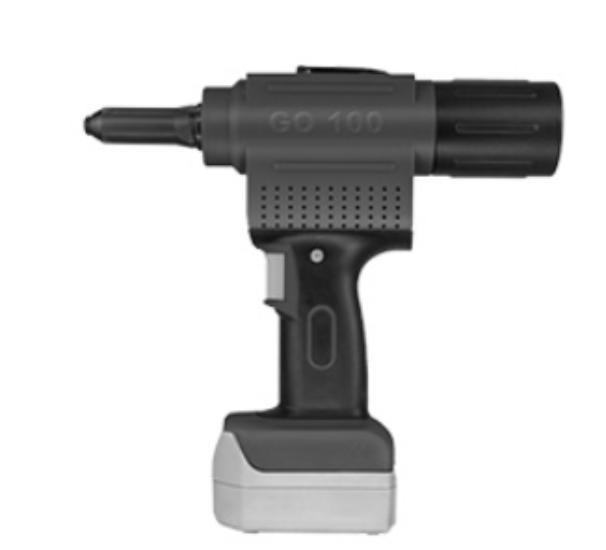 Riveting by hand is only really any good for very small projects. Anything bigger needs a touch of power in order to get the job done faster and more reliably; for this you need a powered rivet gun. And, when it comes to power and accuracy, there's nothing that can deliver it better than the GO-100 rivet gun from renowned manufacturer Goebel.
There are lots of benefits to the user of the GO-100, particulary with regard to how easy it is to use. The GO-100 rivet gun has been described as being 'like magic', in that it seems to do all the work for you! Simply load it up and start riveting like a pro. It's light, compact and powerful and gives consistently professional results.
A common problem with mains-powered riveting guns is the power lead itself, which can easily get in the way of your work. The GO-100 negates this problem as it is powered with a rechargeable battery which is included in our competitive price. Charging the battery is quick and simple; each charge will allow you to use the gun for many hours with no downtime.
Among its many features, the GO-100 accu-tool has a special ability to store broken rivet mandrels, which again helps to keep any downtime to an absolute minimum. The broken mandrels are stored in a specially-designed section which, when full, can be emptied in a single motion by simply twisting off the cap.
Even if you're relatively new to riveting, the GO-100 will ensure you can quickly get to grips with the process. To help you even further, we have created an informative video which explains it all and there is also a step-by-step guide in this week's edition of our blog. Professionals can also benefit from these resources as a quick refresher course.
If you have any questions about the GO-100 from Goebel or any other product on our website, simply give our expert team a call for professional, competent and clear advice.