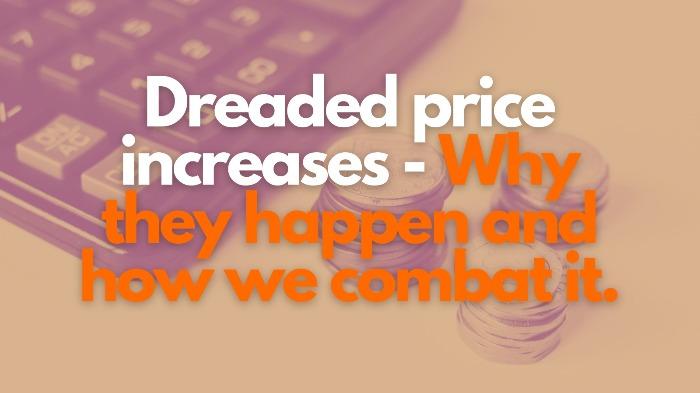 We're all aware of the difficulties that the previous couple of years have thrown our way. We were kept from our families, forced to down tools or work from home, and left wondering when it'll end. The challenges from the pandemic continue to affect us now, two years on from the first confirmed cases.
One that affects us greatly, is the constant price increases. As consumers, we've all been affected by this in some way, whether the price of a food shop has increased, or the cost of heating our homes has doubled. This affects both us as retailers, and you as end-users. We've all accepted that prices are going up, but are any of us questioning why? Well, here we're outlining a few reasons why costs are increasing.
Packaging
For us, packaging is a really important element of ensuring our products reach the customer in perfect condition. Take our boxed banding for example. Without a durable carry box, the product could be damaged during transportation. We need to package our products well, with the customer in mind. This comes at a cost.
The paper and pulp industry is incredibly energy-intensive. This, twinned with spiralling labour, starch and timber costs contributes to an increase in price that many hadn't anticipated.
Transport
It's well documented that there has been a real shortage of HGV drivers in recent months. Not only that, but a reduction in the supply of international shipping containers, and ships to carry them, led to significant rises in the cost of moving goods and services internationally. By the end of 2020, shipping container rates had increased by 185%. Rates have continued to rise for the entirety of 2021.
Gas and Electricity
For our homes, we're well aware when there's an increase in gas and electricity prices. Do any of us ever consider the effect this has on businesses? In order for a business to operate, they require a great deal of electricity and gas, meaning when our bills go up, so do theirs.
All of the above points contribute to an increase in the cost of goods, regardless of the industry. For us, it's important that we operate in a sustainable way, whilst keeping our costs a low as possible. Through bulk buying, we're able to pass savings on to our customers, and with regular sales, we give everyone a chance to grab a bargain in times when they're hard to come by. Right now, we're in the middle of our 12 Days of Christmas Campaign. Stay tuned to our website for some great daily deals.