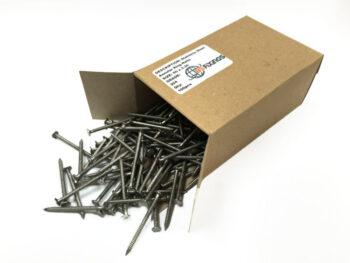 The Guinness Book of Records is famous all over the world and is packed with the daring, the disgusting and the just plain daft. It also contains plenty of records relating to one of our best-selling products here at BS Fixings: stainless steel nails. We thought you'd be interested to read about some of these records and so here they are in this edition of our blog.< /p>
Before we start, we'd just like to tell you not to try any of these at home: as well as being possibly dangerous to your health and safety, we think that our professional-quality nails can be used for much better things!
World's Fastest Time to Bend Ten Nails
Chad Netherland from the USA holds this record, which he set in 2006 by bending 10 nails in just over 21 seconds. No stranger to the record books, martial arts fanatic Netherland also holds the record for the Fastest Time to Rip Ten Packs of Cards (46 seconds)and the Fastest Time to Escape from a Pair of Handcuffs (1.59 seconds).
Most Nails Hammered by Hand in One Minute
Ding Zhaohai from China set this wince-inducing record, by hammering no less than 42 nails into a timber block in just one minute. All we can say is "OUCH!"
Most Nails Hammered with the Head in One Minute
Putting the pain-credentials of the previous record in the shade, India's Saidalavi KV used his HEAD to hammer steel nails into a block of timber. In the minute allotted, the frankly-mad Saidalavi managed to hammer 20 separate nails into the block.
Most People Hammering a Nail Simultaneously
A bizarre record indeed! 470 people got together to hammer a single nail simultaneously as part of the 60th anniversary celebrations of Japan's Tokyo General Construction Workers Union.
Most Nails Inserted into the Nose Simultaneously
Now it's getting seriously weird! The magnificently-named Burnaby Q. Orbax from Canada holds the record, after somehow managing to insert 15 nails into his nostrils in half a minute: an average of one nail every two seconds. It will come as no surprise to learn that Orbax had no challengers to the record and in fact beat his own existing record of 13 nostril nails!
Though these records are oddly entertaining, most of us use stainless steels for much more constructive purposes. Nails are one of the most versatile, flexible and reliable fastenings in the world and, if you want the very best (which of course you do), then you're in the right place at BS Fixings.
Find out all the details of our superlative stainless steel nails on the website and don't, repeat DON'T, stick them up your nose or anywhere else!