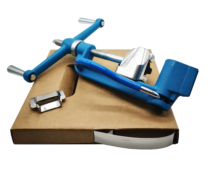 Stainless steel banding is one of the most reliable, efficient and cost-effective methods of sign fixing, allowing signs to be rapidly attached to posts or indeed any other object. In response to customer requests, we have put together a comprehensive sign banding starter kit which is currently available with an attractive 20% price discount.
The Bandfix family of stainless steel banding products is designed, engineered and manufactured by skilled technicians at our parent company BS Stainless. An instant success, Bandfix quickly became the professionals' choice all over the world, used everywhere from major oil & gas engineering projects to municipal work by local councils and contract firms.
Before Bandfix, stainless steel banding products has a sharp edge that presented a danger to operators: the only way to avoid this danger was by wearing heavy, cumbersome and thick gloves that impeded productivity. As all Bandfix stainless steel banding is subject to a deburring process, removing this sharp edge, working with the material is much easier and safer.
Bandfix sign banding is made using 201 Grade stainless steel which is strong, durable and naturally resistant to temperature-induced expansion and corrosion. These qualities make is perfect for effective and reliable usage in any climate, particularly one that is variable like that of the UK. Our sign banding kit contains 30m of sign banding in a choice of sizes, along with a quality whirley bird banding tool and required buckles.
Check out this week's edition of the BS Fixings blog for a step-by-step guide on how to achieve the most professional results when using this kit. Find out all the details of our Bandfix stainless steel sign banding starter kit on the website and order soon to take advantage of our limited-time 20% discount!