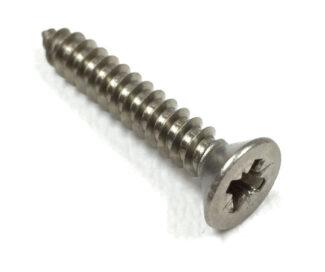 Clearly, 'tapping' and 'drilling' are two very different verbs though the terms 'self-tapping' and 'self-drilling' are often used interchangeably. This casual application of terms can be misleading and, when applied to screws, is most definitely incorrect.
This is the term most commonly (mis)applied to either of the two types. Self-tapping screws have the ability to advance during the driving process itself, which creates new threads for itself as it goes (compare this to, for example, machine screws, whereby a pre-threaded cut must first be made in order to achieve a successful result. Self-tapping screws feature a continuous cutting edge manufactured to accurate tolerances which 'taps' away the material it is used on. Contrary to popular belief, it is this edge that is responsible for the bulk of the tapping work and not the screw's point.
We stock a wide range of styles and sizes of self-tapping screws to meet with the requirements of any project. Styles include slotted, pozi, pozi pan and countersunk.
These stainless steel fixings most closely resemble sheet metal screws but feature a drill-shaped point. Negating the need for pre-drilled pilot holes, self-drilling screws are able to cut powerfully through many metals though are most commonly used on soft steels. Categorised by a number between one and five, with higher numbers representing suitability for use on thicker metals, self-drilling screws are available in a number of sizes. Known variously as pro point, drill bit or tek screws, five-point self-drilling screws are capable of being driven through steel sheet of 13mm in thickness.
Self-drilling screws available from BS Fixings are manufactured by Goebel. The zinc-plated, slotted hex-head screws are extremely versatile and are sold in convenient packs of 500.
If you need any more information on the differences between various types of screws, just give our expert team a call for clear, concise and competent technical information.