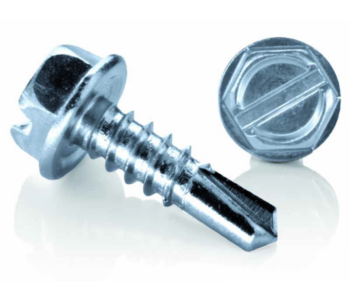 This is something we often get asked here at BS Fixings. When we've investigated it, some of the confusion lies in the obvious issue. Many people think that they may be the same product, just with alternative names. In fact, they are 2 different product types with 2 separate features. Rather than the same product but with alternative names. We'll forgive you for getting it wrong!
In simple terms, a self-tapping screw is used for securing thinner sheet metals and other materials. The self-tapping screw cuts its own thread but often requires a pre-drilled or pre-punched hole to start with. A self-drilling screw on the other hand is a screw that can self-drill through various gauges of metal materials. All without the need for pre-drilling. In quick summary, self-tapping screws can't drill a hole, whilst self-drilling screws can as well tap a thread.
More specifically, self-tapping screws create their own thread while turning. They therefore they don't need matching female threads. Unlike a nut and bolt that requires both a male and female thread to grip.
Get to the point!
Self-drilling screws have a point on them like a drill bit so as they turn (just like a drill), the screws create their own hole and thread in one motion. Self-drilling screws are also sometimes called 'Tek' screws, a proprietary brand name associated with their unique shape and function. Usually used on soft steel material, self-drilling screws are arranged by their size and are numbered from 1 to 5 based on strength. The higher numbers are used on thicker metals.
Here at BS Fixings, we sell the Goebel Zinc Plated Slotted Hexagon Head Self-Drilling Screw-in boxes of 1,000 items. The zinc plate helps prevent the screw from rusting. It's put in place to protect the steel beneath the screw. This screw has a neat finish, and it is corrosion-resistant. These screws can be closely compared to sheet metal screws.
The most common uses for self-tapping screws are for securing 1 and 2-layer thin gauge sheet metal, the fastening of aluminium sections to each other and into screw flutes, fixing metal brackets into ply and timber, and screwing into plastic housings. We sell a range of self-tapping screws which you can see on our website including the popular Goebel A2 Slotted Hex Head Self-Tapping Screw.
Corrosive resistance, always a bonus
This self-tapping screw is perfect for use with a hard material such as metal and hard plastics. The full thread on the screw means that the screw can tap its own hole as it is driven into the material. A2 stainless steel is much more corrosive resistant than carbon steel and will not stain. It also shows good resistance to wear and tear. The slotted head screw is common in simple woodworking applications in that it is not suitable for high torque transfers. The EPDM washer does not only ensure a secure fastening but also helps improve the strength and the stability of the overall connection.
At the end of the day, both self-tapping screws and self-drilling screws are perfect for securing two materials, either steel to steel or steel to timber. Both types of screws are technically self-tapping as far as the function of their threads are concerned, but the big difference is in the style of their points and the functions they perform.