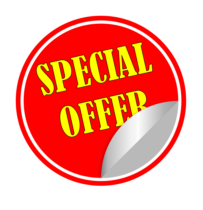 It wouldn't be spring without our spring sale and BS Fixings bringing you special offers on a wide range of stainless steel and DIY products to help you complete those jobs around your home or business. We have a great range of special offers on some of our bestselling lines in many of our main categories. (as well as some you probably didn't know we stocked!)
At the time of writing, we have added 17 products to our special offers page https://bsfixings.uk/special-offers/ including a massive 28% off our Bird Spike Fixing Silicone which is a specially formulated glue designed to use with bird spikes and pigeon control spikes and 15% off Multi-Mate Multi-Purpose Silicone which is a multi-purpose, high modulus, acetoxy cure silicone sealant with fungicide, suitable for most sealing jobs around the home.
We also have discounts on boxes of 250 stainless-steel timber frame ties, cavity screw ties by Bluebird, sealant guns, Le Filla all in one filler, and 15% off A70 Studlock which is resistant to fuels, oils, hydraulic and refrigeration fluids. It Also acts as a lubricant during assembly to ensure accurate torquing and protection against corrosion. A70 Studlock prevents rusting or corrosion and cannot be dismantled once adhesive has set.
We are constantly adding to our product range and including more items to our discount page so make sure you bookmark and regularly visit our special offers page to get the best deals around.
Don't forget we now offer Saturday delivery and also free delivery on all orders over £50 and next day delivery on most of our product range, check out our delivery page for more information and up-to-date prices https://bsfixings.uk/delivery
If you would like more information about any of our product, please do not hesitate to get in touch with our specialist team, we are all here to help.