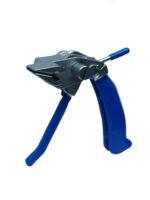 The concept of stainless steel banding is not a new one but the basic idea never stops evolving, inspiring the creation of ever-more efficient tools, materials and ancillaries. One of the latest improvements to stainless steel banding comes in the form of the Bandfix Bantam Tool, exclusive to BS Fixings.
The Bantam tool is designed to improve the application of stainless steel banding, making it quicker, easier and more cost-effective. Here is the BS Fixings step by step guide to using this innovative product...
Start off by taking a wing seal (also available as part of the Bandfix range) and placing it onto the banding
Carefully fold the flexible banding until it is underneath the clip. Press firmly into place
Put the band into place around the object it is to be used on
Thread the banding through the clip
Now comes the fun part! Operate the Bantam banding tool by squeezing the handle. Continue squeezing until the banding is tight around the object
Any excess material can then easily be removed by operating the lever on the tool
The final step is to secure the banding into place; this is achieved by hammering down the wings of the clip. Job done!
The Bantam banding tool can be used on any grade of stainless steel banding. Plated with zinc, it has excellent resistance to corrosion and therefore will give years of perfect service with little maintenance.
Check out more details on this innovative product by visiting the product page, where you can also see our instructional video.