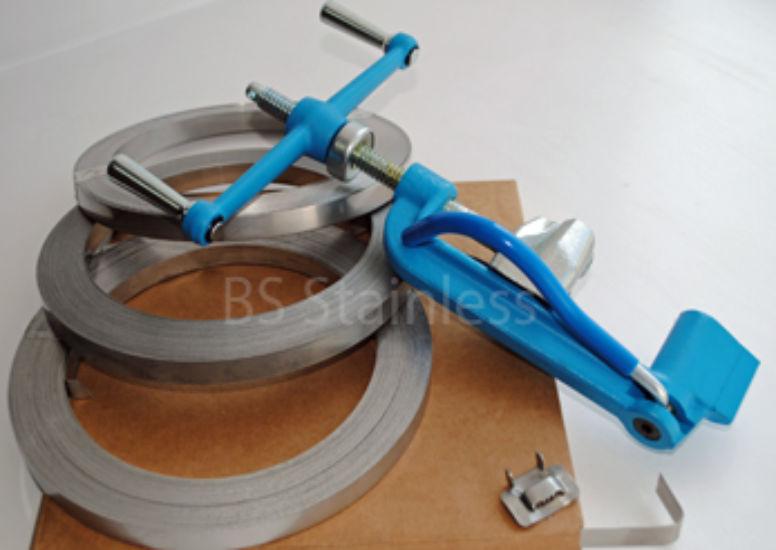 Here we bring you an ever-changing array of products at prices even better than usual, allowing you to save a packet on quality materials from our collection. Hurry, there is still time to take advantage of our discounts for March 2015 - order by the 31st to claim yours!
We are currently offering exclusive 10% price discounts on the following:
Bandfix Stainless Steel Sign Banding
Secure signs, cable, bins and more to posts in the most professional way - with Bandfix. Coils of grade 201 stainless steel, which offers strong corrosion resistance and is non-magnetic, are individually boxed for convenience and feature a safe edge. Stainless steel banding is secured using our Bandfix tool and buckles and we also supply an economy range fabricated from 304 or 316 grade stainless steel. The product is CE marked and continues to grow in popularity as its many benefits become more widely discovered.
Also suitable for tying, this soft and malleable wire is used in a variety of applications from insulation and re-bar to fencing and garden work. Durable grade 304/A2 stainless steel is used to create the wire and is suitable for most ordinary applications and is better than materials such as galvanised steel. We are now the biggest supplier of stainless steel wire in the UK and so can always offer the very best wireforming solution at the most cost-effective price.
Sold in boxes of either 100 or 10, our A2 grade stainless steel bolts are of supreme quality. Partially threaded, the bolts show the amazing resistance to corrosion provided by stainless steel and they are manufactured according to the DIN 931 standard. Choose these sturdy bolts when you need reliable, lasting strength and security.
To keep up to date on the latest special offers from BS Fixings, why not subscribe to our regular newsletter?
Here at BS Fixings, we are one of the largest stainless steel banding suppliers, amongst other products such as tying wire and wall ties! We invite you to browse our website to see what we stock!