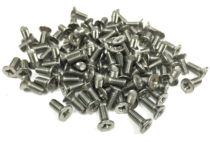 Is it a bird? Is it a plane? No, it's Alrightman! Not too impressive, right? Not when you were expecting Superman. If you are going to call anything 'super', from a hero to a product (and especially if that word forms part of the actual, official name of that hero or product, you've got to be certain that it really is. BS Fixings are certain that our super screws are super, ipso facto.
Perhaps the best way to start a description of Super Screws is to describe the problems you might face when using their more traditional alternative. These include screw-heads snapping dangerously off and hidden corrosion; this can take hold due to minute traces of steel left behind from the pilot screw. Withdrawing and reinserting screws leaves the threads open to wear & tear damage and the entire process is laborious and time-consuming, adding to cost.
We proudly supply Stainless Steel Super Screws, designed to make light work of applications where the two-screw method would otherwise be used. Features & benefits include:
Choice of grades to suit any application – as well as 316/A4 and 304/A2, we also provide immediate access to Duplex 318L / UNS s31803 Super Screws, designed to withstand the intense rigours of exposure to highly-corrosive salt water.
Super Screws are a full three times harder than their traditional counterparts – standard stainless steel self-tapping screws. This means that no other screw is necessary - the heavy-duty Super Screw is all you need to save time and money
No risk of contamination – all components stay free of any hidden corrosion.
No risk of damage – Super Screws can be removed and reinserted without worrying about the threads getting worn or the heads breaking.
All Super Screws can be quickly supplied by us with matching EPDM or polyamide washers as required.
Cut installation time down by up to half.
Reduce waste and lower your environmental impact.
Unfortunately, Superman isn't real. But Super Screws are very real so check out the product page and give us a call to find out more about how the innovative product can be used to improve the quality and success of a multitude of applications. You would have to have a super screw loose to miss out!