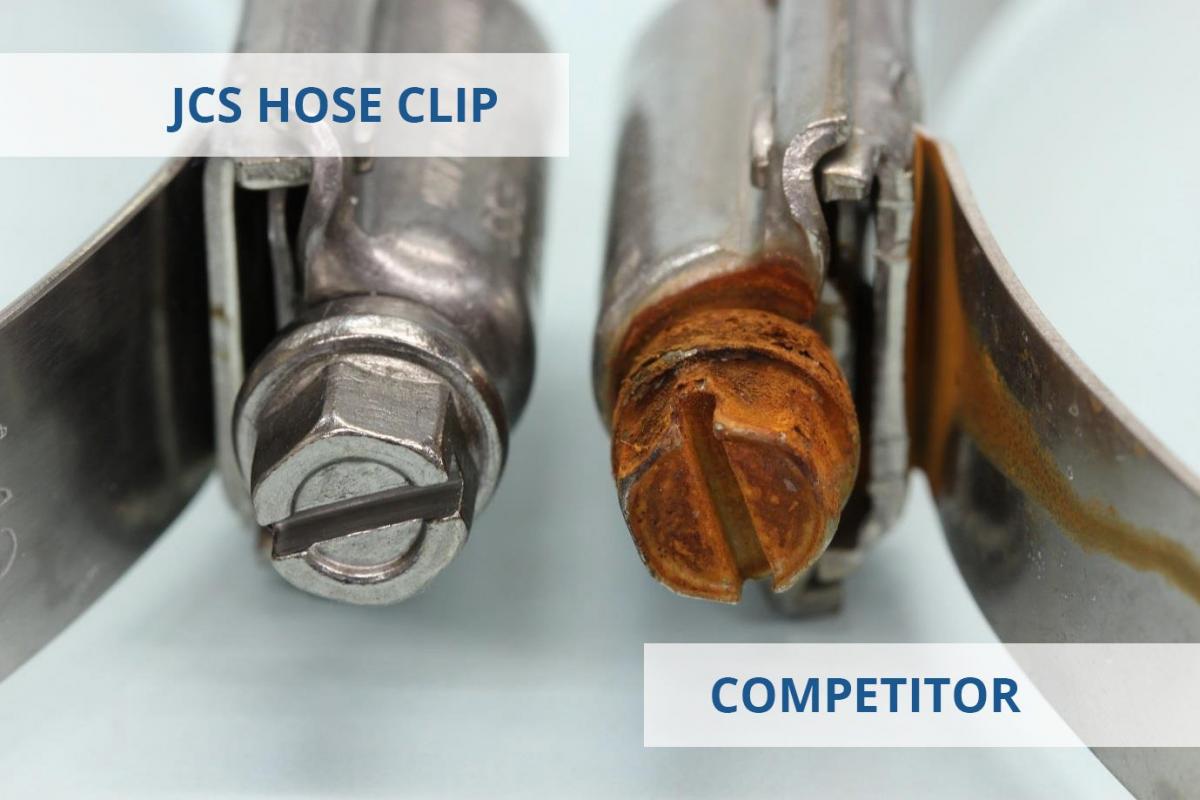 How can you be sure that JCS hose clips will not only deliver top-notch function but will keep on and on delivering it without fail? Well, we know that our customers trust our expert knowledge in choosing partners to work with and so the simple fact that we stock their products at all is the highest endorsement. We, in turn, place our complete trust on your behalf in the metals we know (and love) so well.
JCS manufacture hose clips from stainless steel and offer these along with the option of a further coating of pure zinc. The corrosion resistance of each of these metals separately is a force to be reckoned with but in combination they stand undefeated against their long-term enemy: corrosion.
This exceptional resistance to corrosion has allowed JCS hose clips to become a regular sight in hundreds of businesses all over the world. Working with the finest quality raw materials, JCS manufacture hose clips of world-class standard. No matter what route corrosion tries to sneak down, it will always be cheated of its goal by the inherent strength of stainless steel and zinc.
The stainless clips are manufactured from 304 or 316 grade alloy, the two most frequently used types with their noted corrosion resistance, imbued by high levels of chromium (304) and molybdenum (316). They are completely formed from only that grade of stainless steel and do not have a lower grade screw attached. A practise is sometimes carried out by inferior suppliers to avoid the difficulties of galling or sticking.
JCS have perfected the single-grade process through detailed engineering of the clips along with the development of a specialist lubricant. These innovations mean that the clips can be used in extremely corrosive environments, accounting for their particular popularity in marine, oil & gas and drainage industrial sectors of industry.
JCS have also developed specialist techniques for creating their zinc electro-plated hose clips, which offer an even greater level of corrosion resistance as well as an aesthetically-pleasing mirrored finish. These uniquely robust clips are manufactured at a purpose-designed and built plant at the JCS factory in Suffolk: this means that the company work to their own quality control procedures and that their reputation therefore depends on consistent perfection. The reputation, known all over the world, is as shiny as the hose clips themselves.