Stainless Steel Starter Ties 130mm
Stainless Steel Starter Ties 130mm
Starter Wall Ties. Boxes of 10 or 100. 
Stainless Steel Starter Ties 130mm
Supplied in boxes of 10 or 100
Application – 

Used where new walls are being built directly from existing brickwork. Alternatively they can be used without the plug and screwed directly into timber door or window frames.  

Suitable for both internal and external brick or block walls, in buildings up to a maximum of 8 metres or 3 storeys high.
Design – Asymmetrical wall starter tie without drip feature, it can be installed either way up
Material – Manufactured from grade 304 stainless steel
Behaviour in relation to fire – non-combustable (as defined in the national Building Regulations)
Durability – excellent corrosion resistance and a service life of not less than 60 years
Thermal performance – In situations where thermal losses through ties need to be taken into account, the products will adequately resist thermal transmittance through a wall cavity
No resources currently available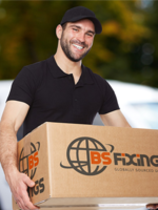 Free delivery
We offer free delivery for all orders over £50 (ex VAT). (UK Mainland Only).
Standard Delivery
Is offered to UK mainland customers. You will receive an email where you can confirm the delivery price if you are happy with it. Different package weights will have different prices.
International Delivery
We deliver all across the globe using a highly trustworthy courier. At the checkout stage, select the country that you would like the goods to be delivered.Then you will receive an email where you can confirm the delivery price if you are happy with it. Different countries will have different lead times and prices.
Delivery Charges
Below is the standard tariff for guidance purposes. Actual costs will be confirmed at point of sale and any variances you will be notified within 24 working hours of receipt of order.
The deliveries below are for mainland UK, for Highlands, Channel and offshore islands an extra charge per consignment will be applied as below, we can also arrange Saturday delivery at extra cost.
Next day delivery for orders under £50 (ex VAT) – £5