Stainless Steel Tying Wire - Grade 316 (20 Kg Coil)
Stainless Steel Tying Wire - Grade 316 (20 Kg Coil)
Stainless steel tying or lacing wire available from stock in various diameters.
Grade 316 stainless steel tying wire, sold in 20kg coils.
This grade material is a good alternative to grade 304 or galvanised tying wire. Grade 316 tying wire is often needed when dealing with marine environments. This is because they have very good corrosive resistant characteristics.
Tying wire can be used for many applications such as: wire sculpting, fencing, insulation and even in motorsports.
Tying wire can often be shaped and moulded easily in that it is soft and malleable using either human hands or tools.
Typical lengths are:
| | |
| --- | --- |
| Size in mm | Size in metres |
| 1.6mm | 1250 metres (APPROX) |
| 1mm | 3150 metres (APPROX) |
Delivery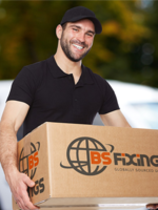 Christmas Delivery Update
Order by 12:30 pm on Thursday 23rd December to guarantee delivery before Christmas. Any orders placed after this will be delivered on Wednesday 5th January 2022. After this, our normal next day delivery service will be available.
Free delivery
We offer free delivery for all orders over £50 (ex VAT). (UK Mainland Only).
Standard Delivery
Is offered to UK mainland customers. You will receive an email where you can confirm the delivery price if you are happy with it. Different package weights will have different prices.
International Delivery
We deliver all across the globe using a highly trustworthy courier. At the checkout stage, select the country that you would like the goods to be delivered.Then you will receive an email where you can confirm the delivery price if you are happy with it. Different countries will have different lead times and prices.
Delivery Charges
Below is the standard tariff for guidance purposes. Actual costs will be confirmed at point of sale and any variances you will be notified within 24 working hours of receipt of order.
The deliveries below are for mainland UK, for Highlands, Channel and offshore islands an extra charge per consignment will be applied as below, we can also arrange Saturday delivery at extra cost.
Next day delivery for orders under £50 (ex VAT) – £5