Timber Frame Tie Stainless Steel - Box of 250
Timber Frame Tie Stainless Steel - Box of 250
Timber frame tie. Stainless steel masonry to timber tie. Sold in boxes of 250 wall ties.
Timber frame wall ties. Sold in boxes of 250. Stainless steel. 
Supplied complete with Stainless Steel Annular Ring Nails (50mm x 3.35mm). 
The size in the option menu above represents the length. Here is a table to show which length tie suits which size of cavity.
| | |
| --- | --- |
| Length (size to choose)          | Cavity Size                                        |
| 125 mm | 50 mm |
| 150 mm | 75 mm |
| 175 mm | 100 mm |
If you have a cavity size of over 100mm, we would advise using our Helical Timber Frame Ties. 
The Timber Frame Tie is a stainless steel masonry to timber tie for timber frame building up to 4 storeys in height. The component is designed specifically to secure the outer brick skin of a building to its inner timber frame, delivering lasting structural integrity by absorbing substantial vertical movement between timber and brick. The product accommodates vertical movement. It is tested as Type 6 (strength) and Type B (sound) to BS EN 845-1. For more information about this product please see the data sheet located below the image or contact us for advise from our specialist team! 
Timber Frame Tie
Hole Size: 12mm Diameter 
Additional information:
Timber and masonry obviously have very different physical properties, reacting to temperature, moisture and movement in very different ways. This means that the two materials will naturally have movement between them and structures that are not adequately protected will suffer corresponding damage. Timber frame ties, by accommodating such natural movements, prevent this damage from occurring. Installing timber frame ties requires the use of stainless steel annular ring nails, which are supplied with the product for your convenience and with our compliments. For SIPS panels, stainless steel screws should be used. Three standard sizes are available from stock and the ties are sold in boxes of 250 items. 
If you would like to find out more about our timber frame ties please get in touch with our specialist team today! 
Delivery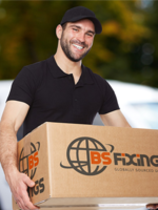 Free delivery
We offer free delivery for all orders over £50 (ex VAT). (UK Mainland Only).
Standard Delivery
Is offered to UK mainland customers. You will receive an email where you can confirm the delivery price if you are happy with it. Different package weights will have different prices.
International Delivery
We deliver all across the globe using a highly trustworthy courier. At the checkout stage, select the country that you would like the goods to be delivered.Then you will receive an email where you can confirm the delivery price if you are happy with it. Different countries will have different lead times and prices.
Delivery Charges
Below is the standard tariff for guidance purposes. Actual costs will be confirmed at point of sale and any variances you will be notified within 24 working hours of receipt of order.
The deliveries below are for mainland UK, for Highlands, Channel and offshore islands an extra charge per consignment will be applied as below, we can also arrange Saturday delivery at extra cost.
Next day delivery for orders under £50 (ex VAT) – £5