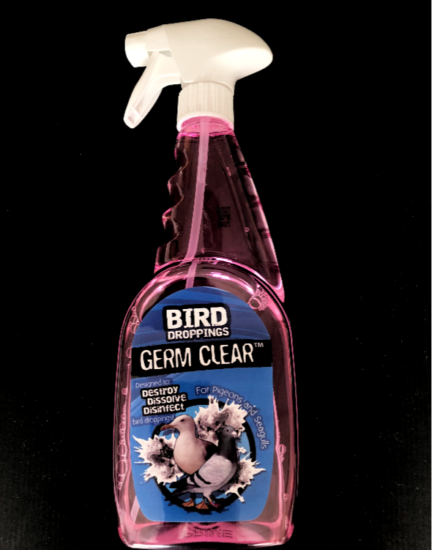 Every item in the comprehensive collection of bird prevention products supplied by BS Fixings is currently available with a 10% price discount until August 16th. The collection includes Germ Clear Bird Dropping Disinfectant Spray, the crucial first step in preparing a structure for the installation of bird prevention spikes.
As well as being unsightly, bird droppings are full of bacteria that can be dangerous to human health. It's therefore essential to clean up any existing droppings before installing bird spikes to prevent the problem from recurring. Germ Clear Bird Dropping Disinfectant Spray is a specially-formulated product that is unbeaten at clearing up the mess left by our feathered friends.
Just like our collection of bird prevention spikes, the disinfectant spray is safe to use on all kinds of surface material. It's designed to be simple and hassle-free to use, delivering rapid results. When correctly used, the formula will leave surfaces totally free of droppings: this clean, clear surface is essential to ensure that the bird spikes will attach firmly.
Germ Clear is sprayed directly onto the surface, saturating it and damping down dried droppings, taking effect in less than one minute. After the formula has penetrated deeply, a metal scraper can be used to remove the majority of droppings. Spray the surface again and remove stubborn droppings with a stiff brush. A final respray and a wipe with a damp cloth completes the process. The surface is now ready to install bird prevention spikes (for a step by step guide on how to do this, check out this week's news article).