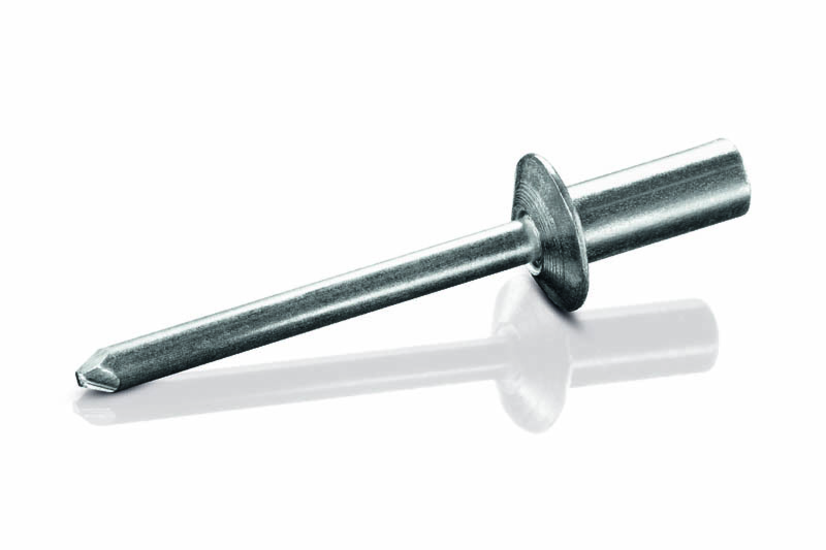 Rivets have been found dating back hundreds of years - the small but infinitely-versatile fasteners have been making our lives easier since time immemorial. Heavy industries, such as those involved with building massive seagoing ships and the tallest skyscrapers, have used millions in their work over the years, as well as vehicle manufacturers, renovators and even DIYers! They are still used in abundance today and you can get any kind you need from us.
Fundamentally, a rivet is a type of fastener that is used to strongly and securely join and hold two plates together. We are not talking about the kind of plate you have your dinner on - plates could be made from a number of materials such as plastic, wood or metal and range in size from the tiny to the gigantic. Accordingly, rivets are also available in a wide variety of sizes, materials and styles to suit any individual application.
Another size consideration when joining plates of material is the varying thickness. It is important to accurately judge the necessary size of rivet to suit materials of different thicknesses and our expert team are always available to offer clear advice if you need it to ensure your job gets done right first time. Even in the most demanding of environments, rivets from BS Fixings are guaranteed to offer consistent optimum performance, whatever they're being used for.
Getting plates securely joined using rivets could be extremely time-consuming but not now with the invention of the rivet gun. This labour-saving tool is designed to quickly, efficiently and accurately secure rivets into place, providing a consistent way to ensure that any project can progress swiftly and effectively. Using a rivet gun should only be attempted after studying an authoritative guide and as always, we are here for you when you need us most with our own easy-peasy explanation!
BS Fixings can be found via all major social networks such as Twitter, Facebook, we also have our own YouTube channel and this is where you can find all of our informative videos, including the step-by-step guide to safely and effectively using a rivet gun for the most professional results. Follow us on social media and sign up to our newsletter for all the updates, special offers and more from BS Fixings.
Check out our rivet gun guide along with the rest of our videos! Got something you'd like to see? Please do get in touch as your needs drive our actions — you can phone, chat live, email or contact us on social media.