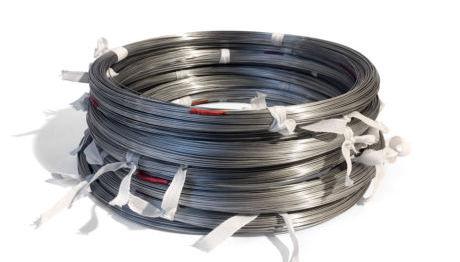 Lighthouses, although apparently old-fashioned, are still used extensively to warn passing ships of unsafe waters. Although new lighthouses are very rarely built, existing structures still need to be maintained and occasionally replaced.
A lighthouse-replacement project carried out at Roancarrigmore, located on the wild and remote coast of County Cork in Ireland, made extensive use of stainless steel. The area, though dramatically beautiful, poses a threat to ships due to its sudden violent storms and as such is the most important refuge on the coast, offering a place of safety to vessels requiring shelter.
With a large and deep bay, the safely-accessible harbour is an essential fishing resource and its eastern entrance is marked by Roancarrig Lighthouse, designed to guide vessels into safe water. After the lighthouse's classification was happily reduced, the Commissioner for Irish Lights (CIL) decided a new, more cost-effective and environmentally-friendly design was required for the site.
The replacement is an incredibly light structure over 7 metres high, fabricated from 316L stainless steel. A helicopter was used to transport three cylindrical sections for construction on-site, creating the impressive structure. Externally, the lighthouse is manufactured from 8mm stainless steel plate that has an attractive satin finish, perfect for its marine location. The design makes use of solar energy to power its LED lights, replacing the diesel-powered lamp which consumed over 15,000 litres of fuel every year.
As this project was so successful, the CIL also decided to use stainless steel to replace the upper section of another lighthouse in County Mayo. Connecting the new section with the old required extensive use of stainless steel wire, welded to ensure a strong and lasting seal.
Stainless steel is the perfect material for use in the moist and salt-rich atmosphere where lighthouses must be placed. Strongly resistant to both of these known causes of corrosion, the versatile metal is also used in other marine applications such as shipbuilding and oil rigs.
Stainless steel wire is one of the key products in our extensive portfolio. Find out more about the types we supply and get things done the BS Fixings way; right first time, every time.