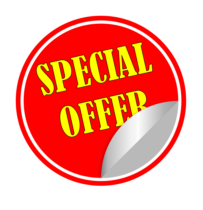 The BS Fixings summer sale is in full swing and you're invited to the party! We have selected over 50 of the most popular products from our comprehensive collection, applying discounts of anywhere between 10% and 45% for a limited time. Check out some of the products and product ranges included in the sale in this edition of the BS Fixings blog...
Our entire collection of wall ties is reduced in price in the big summer sale. For securing two leaves of a cavity wall together, choose the Light Duty Housing Tie. If you need to attach two masonry walls together, you need the General Purpose Wall Tie. Need to attach timber to masonry? Then order the Timber Frame Ties. Whichever you choose, you'll save 10% in our sale. All wall ties are made from quality stainless steel and sold in boxes of 250 pieces.
As with our wall ties, our whole collection of bird spikes is included in the summer sale. Wide or narrow, steel or plastic, for roof ridges, pipes or TV aerials: you can save 20% right across the range. The discount even applies to Bird Dropping Disinfectant Spray! And, when you buy our specialist fixing silicone adhesive, we'll DOUBLE the discount and take a full 40% off this crucial ancillary.
One of the most recent products to be added to our portfolio, insulation hangers from BS Fixings will cost you 15% less during our seasonal promotion. Both self-adhesive and perforated base options are included, as well as the Insulation Pin Adhesive required to secure pins with that perforated base.
There is much more to discover in the big BS Fixings summer sale so browse now and start saving!