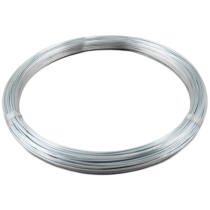 Here at BS Fixings we provide tying wire perfect for many applications. What will you use YOURS for…?
We offer stainless steel tying wire in grade 304 and grade 316. Grade 304 is the most popular grade of stainless steel as it is an ideal grade for everyday applications, easy to form and long lasting. Grade 316 tying wire is great for outdoor usage due to its corrosive resistant characteristics. We also supply galvanised tying wire which is a cheaper option and is useful for when the extra corrosion resistance isn't needed.
Tying wire may be referred to as lacing or sculpting wire. The product can be shaped very easily in that it is soft and malleable therefore can be moulded using just human hands. However, for a more effective outcome, pliers may be used.
Wire sculpting is a popular hobby and the sculpting wire from BS helps make the task of sculpting, even easier. Our wire is durable therefore can be bent, twisted and tied which is the essential thing in that it can be moulded easily, just using your hands! Wire sculpting is a very good market for us in that we offer different grades and sizes of tying wire and it is all to a high quality.
Check out our tying wire with our range of grades, sizes and weights.