Stainless Steel Wall Tie - Light Duty Housing Tie
Stainless Steel Wall Tie - Light Duty Housing Tie
The Light Duty Housing Tie. Wall Ties to secure two leaves of a cavity wall together. Sold in boxes of 250. 
Type 4 Wall Tie
Stainless Steel Wall Tie - Light Duty Housing Tie -
Boxes of 250
Light duty wall tie used in domestic dwellings that have inner and outer leaves of a similar thickness. Wall Ties used to secure two leaves of a cavity wall together, giving the cavity wall greater strength.  
They are suitable for buildings with a maximum height of 10 metres
275mm and 250mm long have a diameter of 2.8mm 
225mm long have a diameter of 2.3mm 
Material: Manufactured from grade 304 stainless steel.
The Light Duty Housing Tie has a multidrip feature preventing moisture from travelling across the cavity. The design of the tie means that it can be installed either way up. This product is tested as Type 4 (strength) and Type A (sound) to BS EN 845-1. For more information about this product please see the data sheet located below the image or contact us for advise from our specialist team!
Here is a table to show which length of wall tie suits which cavity width size:
| | |
| --- | --- |
| Length of Wall Tie (to choose from options) | Cavity Width  |
| 200mm  | 75mm |
| 225mm | 100mm |
| 250mm | 125mm |
| 275mm | 150mm |
Additional Information:
With its combination of impressive strength, anti-corrosive properties and intelligent design, the Light Duty Wall Tie from BS Fixings is a truly remarkable piece of technology. Only after extensive testing has the product been made available; discover some of the results below...

The Light Duty Wall Tie is available in a choice of three standard sizes, each of which was subjected to extensive, robust and rigorous testing at Ceram Building Technology to ensure their fitness for purpose. 275mm, 250mm and 225mm stainless steel wall ties were tested in compression and tension over cavity widths of 150mm, 125mm and 100mm respectively, with all testing carried out in accordance with BS EN 846-6 Methods of Test for Ancillary Components for Masonry, Part 5 (Determination of tensile and compressive
load capacity and load displacement characteristics of wall ties).
The maximum declared values at ultimate load (expressed in newtons) for each tie are as follows:
275mm Tie: Tension 1220, Compression 514
250mm Tie: Tension 1879, Compression 638
225mm Tie: Tension 1256, Compression 557
The tests also showed that the Light Duty Housing Tie has a measured dynamic stiffness of 2.77MN/m3 in a 75mm cavity, making it far more than suitable for party walls at a standard density of 2.5 per square metre (the dynamic stiffness in a comparable 100mm cavity will be similar or even less.)
If you would like to find out more about our timber frame ties please get in touch with our specialist team today!
Delivery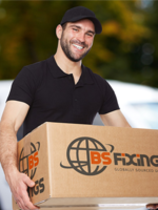 Free delivery
We offer free delivery for all orders over £50 (ex VAT). (UK Mainland Only).
Standard Delivery
Is offered to UK mainland customers. You will receive an email where you can confirm the delivery price if you are happy with it. Different package weights will have different prices.
International Delivery
We deliver all across the globe using a highly trustworthy courier. At the checkout stage, select the country that you would like the goods to be delivered.Then you will receive an email where you can confirm the delivery price if you are happy with it. Different countries will have different lead times and prices.
Delivery Charges
Below is the standard tariff for guidance purposes. Actual costs will be confirmed at point of sale and any variances you will be notified within 24 working hours of receipt of order.
The deliveries below are for mainland UK, for Highlands, Channel and offshore islands an extra charge per consignment will be applied as below, we can also arrange Saturday delivery at extra cost.
Next day delivery for orders under £50 (ex VAT) – £5