Neutras Wall Tie - Type 4 Housing Tie
Neutras Wall Tie - Type 4 Housing Tie
Low thermal conductivity and high structural performance. Box of 250.
Neutras Wall Tie - Type 4 (Housing Tie). Box of 250.
NEUTRAS wall ties have high structural performance levels and low thermal conductivity.
Please note that the insulation clip is sold separately. This can be found here: Insulation Clip.
The new basalt fibre composite NEUTRAS wall tie is an extremely versatile product. The careful design of this product means they can be excluded from the current U value calculations in EN ISO 6946 and provide a credible solution to new legislation requirements.
Size chart is below to show which size of wall tie suits which size of cavity width.
| | | |
| --- | --- | --- |
| Size (Choose from drop-down menu above) | Cavity Width | Units Per Box |
| 200mm | Up to 75mm cavity | 250 |
| 225mm | Up to 100mm cavity | 250 |
| 250mm | Up to 125mm cavity | 250 |
| 275mm | Up to 150mm cavity | 250 |
| 300mm | Up to 175mm cavity | 250 |
Please note the current lead time for this product is 2 - 3 days
Key Points:
High Specific tensile strength 4-6 times higher than stainless steel
Excellent corrosion resistance (never rusts)
Low thermal conductivity of 0.65W/mK, which is 15-20 times lower than stainless steel
High compressive strength compared to conventional FRP materials
Non-magnetic and electrically non-conductive
For more information about this product please don't hesitate to get in touch with our specialist team.
This product is also available as Type 1 (Heavy Duty Tie) and Type 2 (General Purpose Tie).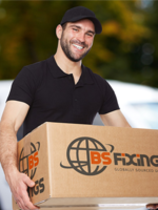 Free delivery
We offer free delivery for all orders over £50 (ex VAT). (UK Mainland Only).
Standard Delivery
Is offered to UK mainland customers. You will receive an email where you can confirm the delivery price if you are happy with it. Different package weights will have different prices.
International Delivery
We deliver all across the globe using a highly trustworthy courier. At the checkout stage, select the country that you would like the goods to be delivered.Then you will receive an email where you can confirm the delivery price if you are happy with it. Different countries will have different lead times and prices.
Delivery Charges
Below is the standard tariff for guidance purposes. Actual costs will be confirmed at point of sale and any variances you will be notified within 24 working hours of receipt of order.
The deliveries below are for mainland UK, for Highlands, Channel and offshore islands an extra charge per consignment will be applied as below, we can also arrange Saturday delivery at extra cost.
Next day delivery for orders under £50 (ex VAT) – £5