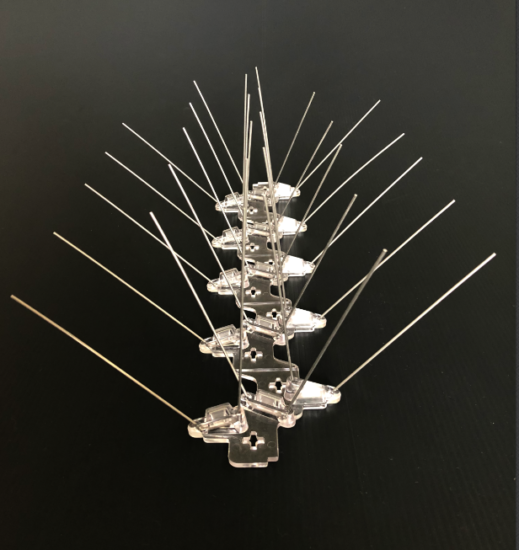 Though everybody loves to see birds in their garden, our feathered friends can often cause a nuisance if they land and gather together in other areas. Birds that land on ledges, chimneys, aerials, signs, gutter, girders, parapets and more can cause all sorts of issues: what is the solution?
One immediately effective way to prevent birds landing on any surface is with the simple installation of bird spikes. Despite the harsh-sounding name of the product, bird spikes are actually a 100% humane method of deterring birds from landing and can be easily attached to almost any surface. As part of our Big Summer Sale, you can save a full 20% across the range of bird spikes available from here at BS Fixings.
Installing bird spikes is super-easy: check out our step-by-step guide...
Bird spikes can be attached to wood, metal, brick, glass and concrete surfaces but, whatever the surface is, correctly preparing it is key to achieving professional, lasting results. Start with an application of Germ Clear Disinfectant Spray, which will leave the surface free of any existing bird droppings along with standard surface dust and dirt. Germ Clear Disinfectant Spray is available from BS Fixings and also features that limited-time 20% discount.
Attaching bird spikes is best achieved with Silicone Fixing Adhesive, which currently features a double discount of 40% from BS Fixings. The clear adhesive is particularly resistant to corrosion and is UV stabilised, giving it an expected service life of at least 35 years. Apply a thin bead of adhesive along the base of the bird spike.
Press the spike firmly into position: the adhesive will ooze through the spike's silicone locking holes.
The spike is immediately locked into place by the fast-drying adhesive. Full curing takes around 24 hours.
That's it! The polycarbonate base of the spikes will react with the silicone in the formula, ensuring a durable hold that is designed to accommodate natural flexural movements of the surface the spike is attached to.
There are many different formats of bird spike available from BS Fixings: browse the range to discover the most suitable type for your intended application. Have questions or need advice? Simply get in touch with our skilled technical team.