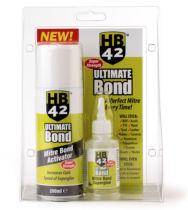 The BS Fixings autumn sale includes discounts on a wide range of sealants and adhesives from leading brand HB42's 'Ultimate' collection. You can save 10% on all of the products in this range, which includes:
This bestselling all-in-one sealant and adhesive has been engineered to meet the complex, heavy-duty demands of the construction industry in a reliable and highly cost-effective manner. Based on state-of-the-art hybrid polymer technology, the patented food-safe formula is recognised for producing ultra-low emissions, making it one of the safest and most environmentally-friendly options on today's market.
Whether used in wet or dry conditions, indoors or out, HB42 Ultimate Sealant & Adhesive Eco-Foils can be successfully used on polystyrene, coated metal, uPVC, porcelain, aluminium, stainless steel, glass and wood. BS Fixings supply a specially-designed applicator gun for use with the product and you can also save 10% on this essential ancillary.
Primarily intended for use on timber mitre joints, HB42 Ultimate Bond can also be used with equal success on acidic, porous and difficult-to-bond surfaces such as aluminium, ceramic, leather, rubber, steel, PBV, acrylic and MDF. The product incorporates a super-strength mitre bond activator, which is an aerosol designed to dramatically accelerate the superglue's cure speed for a near-instant bond.
With a maximum flexibility of 12.5%, HB42 Ultimate Decorators Caulk offers double the flexibility of leading brands of caulk, meaning it is twice as resistant to movement and perfect for deep and wide filling applications. Once correctly applied, a process which is rapid and simple, the formula creates a robust seal that can be over-painted in just one hour dependent on the humidity and temperature of the environment it is used in. Ideal for either exterior or interior usage, HB42 Ultimate Decorators Caulk incorporates a strong and reliable fungicide to help prevent mould growth.
All of the silicones, sealants and adhesives in the BS Fixings collection are reduced in price by 10% in our big autumn sale. You can also make huge savings on many other selected products, including Bluebird screw ties, timber frame ties, stainless steel woodscrews and stainless steel lacing wire: check out our website for more details!