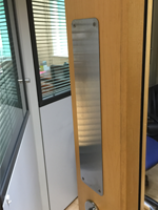 Doors can be subject to some pretty heavy treatment, especially those that are frequently used. The combined pressure of many pushing hands and kicking feet leaves dirt and marks and can wear away coatings while damaging the door's aesthetic appeal. Door plates, for both hand and foot level, are the perfect solution, providing adequate protection while maintaining an attractive, professional appearance.
There are lots of benefits to choosing door plates from BS Fixings...
Made in the UK – BS Fixings are proud to support British manufacturing
We can also manufacture other sizes based on request however, there would be minimum order quantities.
Thickness of 1.2mm – the plate, once installed, barely protrudes from the door to give a sleek and elegant visual line
Fabricated from grade 430 stainless steel – the perfect combination of form and function providing protection from wear and tear
Easily Attached – Simply fix to the door using the stainless steel screws provided and the plates offer immediate protection
Low Maintenance – Our door plates are easy to clean and extremely resistant to corrosion; check the screws are tight now and again, wipe with a cloth and you're done!
Manufactured by experts with many years' experience in the stainless steel industry, ensuring 100% quality every time
Protect internal doors from feet and hands by installing BS Fixings' Door Plates and make sure they are opened and closed properly with our door handles. As with all of the products on our website, professional quality comes as standard and our customer service team are always available to offer clear and competent advice and support.
New products are being added to the BS Fixings website all the time so make sure you are subscribed to our newsletter so you don't miss out. You'll also be the first to hear about our latest Special Offers.