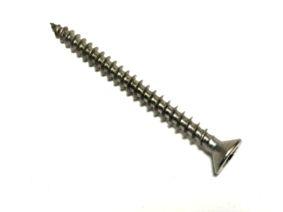 Whatever you're purchasing, from a cup of coffee to a new house, cost is always one of the most crucial factors to consider. At BS Fixings, we pride ourselves on supplying products of professional quality at a consistently-competitive price and, to further enhance this aspect of our work, regularly offer selected products with substantial price discounts.
All of these discounted products can be found in the dedicated 'Special Offers' section of our website. This section is currently full to bursting with bargains galore as we launch the BS Fixings Spring Sale, in which you can save up to 20% across a wide range of products. Here are just some of them...

Sold in packs of 100 or 200 screws, these stainless steel fastenings are consistently-popular thanks to their impressive versatility.
A full selection of sizes is available to suit any project and the screws can be used on all kinds of wood, including softwood, hardwood, chipboard and MDF.

Designed and manufactured by JCS, one of our trusted partners, the Hi-Grip® range of hose clips is superlative when it comes to pure quality.
Both standard stainless steel and zinc-plated options are available, along with all of the necessary ancillaries required to complete a professional job. The limited-time discount of 15% applies to all products in the Hi-Grip® range.

Designed as a stainless steel fixing for cables, our trunking clips are made using 430-grade stainless steel.
Clipping easily into standard trunking before screwing through the plastic material, these clips comply to BS7671 regulations when correctly installed.
Check out our blog page for an extra selection of big bargains and subscribe to our VIP newsletter for even more!