Stainless Steel Multi-Purpose Fixing Band
Stainless Steel Multi-Purpose Fixing Band
Stainless Steel Multi-Purpose Fixing Band
| | | |
| --- | --- | --- |
| Length | Thickness | Width |
| 10 metres | 0.7mm | 20mm |
 With a thickness of 0.7mm, a width of 20mm and a length of 10 metres, our multi-purpose fixing band can be easily bent, cut and formed for all types of light applications. Common uses of this product include DIY, agricultural and industrial applications. This banding is not edge dressed and is a standard slit edge. This means that gloves may need to be worn when handling.
This product can be nailed or bolted for installation. We have available stainless steel nails and bolts which you can see in the 'see also' section below. These can be used in conjunction with the banding.
Grade 304 stainless steel ensures that the banding has anti-corrosion features and lasts longer. It is often that 430 grade stainless is used for this product however, the chemical build-up means that the material is not corrosive-resistant therefore the band is not very long-lasting.
It is important that when installing the product, you must use compatible corrosive resistant fixings to prevent rusting.
We also offer this banding in galvanised steel.
If you would like more information about this product please don't hesitate to get in touch with our specialist team. 
No resources currently available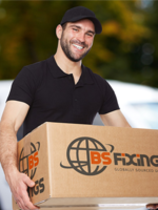 Free delivery
We offer free delivery for all orders over £50 (ex VAT). (UK Mainland Only).
Standard Delivery
Is offered to UK mainland customers. You will receive an email where you can confirm the delivery price if you are happy with it. Different package weights will have different prices.
International Delivery
We deliver all across the globe using a highly trustworthy courier. At the checkout stage, select the country that you would like the goods to be delivered.Then you will receive an email where you can confirm the delivery price if you are happy with it. Different countries will have different lead times and prices.
Delivery Charges
Below is the standard tariff for guidance purposes. Actual costs will be confirmed at point of sale and any variances you will be notified within 24 working hours of receipt of order.
The deliveries below are for mainland UK, for Highlands, Channel and offshore islands an extra charge per consignment will be applied as below, we can also arrange Saturday delivery at extra cost.
Next day delivery for orders under £50 (ex VAT) – £5