Banding Tool for use with banding and buckles. Sold each.
Qty




Price (Excl.VAT)




Price (Incl.VAT)

5+

£90.06

£75.05

save

5

%
10+

£85.32

£71.10

save

10

%
25+

£80.58

£67.15

save

15

%
Standard Banding Tool used to fix stainless steel banding and strapping also referred to as a "Whirley Bird" bander due to the operation to tighten. This is ideal for various applications of banding including Bandfix® Sign Banding often used with a sign to band it to a post similarly with bins often used by councils to secure the bin to a post and band it firmly in place. These can also be used for cables, metal insulation, packing etc.. with our Bandfix® SafeEdge band or heavier insulation products, these are regularly used on industrial oil and gas plants by metal laggers or cladders to hold metal securely around pipework or tanks.
Banding Tool Specifications
Tensions over 1100 kg of force ( 2,400lbs) and cuts off the spare banding being formed
Used to apply Stainless Steel Band, can also be used for Galvanized or Carbon Steel Band and general steel strapping
Widths from 9mm (3/8") to 20mm (3/4")
Drop forged tool and heat treated with built in cutter
Spring loaded grip lever improves ease of use
Blue epoxy powder coated finish to resist  corrosion
Weight 2kgs approx. ( 4.3lb)
Blue epoxy coated
Spinning Handle for ease of tightening
To see how to use this product, please click here.
Whilst this product is out of stock, we'd recommend our Tensioner Banding Tool, which can be found here - https://bsfixings.uk/bandfix-tensioner-banding-tool/
No resources currently available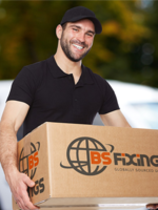 Free delivery
We offer free delivery for all orders over £50 (ex VAT). (UK Mainland Only).
Standard Delivery
Is offered to UK mainland customers. You will receive an email where you can confirm the delivery price if you are happy with it. Different package weights will have different prices.
International Delivery
We deliver all across the globe using a highly trustworthy courier. At the checkout stage, select the country that you would like the goods to be delivered.Then you will receive an email where you can confirm the delivery price if you are happy with it. Different countries will have different lead times and prices.
Delivery Charges
Below is the standard tariff for guidance purposes. Actual costs will be confirmed at point of sale and any variances you will be notified within 24 working hours of receipt of order.
The deliveries below are for mainland UK, for Highlands, Channel and offshore islands an extra charge per consignment will be applied as below, we can also arrange Saturday delivery at extra cost.
Next day delivery for orders under £50 (ex VAT) – £5