Bandfix® Stainless Steel Banding Clips
Bandfix® Stainless Steel Banding Clips
Sold in bags of 100. Banding Clips for fixing banding in place. Stainless Steel. 
Stainless Steel Banding Clips - Sold in bags of 100.
Bandfix® clips are used to secure Bandfix® SafeEdge banding. These are simple to use yet very secure. 
Bandfix® clips can also be referred to as wing seals due to their appearance. The banding can be tensioned using a banding tool. The wings are then hammered down to hold the banding tightly in place.
Bandfix® SafeEdge Band
Product
Material
Width
Thickness
Package Quantity
Weight Approx.
In.
(mm)
In.
(mm)
Lbs.
Kg
13mm
SS 304
1/2
12.7
0.028
0.70
100 per box
1.1
0.5
19mm
SS 304
3/4
19
0.028
0.70
100 per box
1.5
0.7
These can be used with our Bandfix Banding and secured with our Tensioning tool or Banding tool.
We are a UK manufacturer that you can buy from directly, saving you money and ensuring a high-quality product with fast efficient service.
All of our Bandfix® banding products are available from our online shop. Our prices are kept at a continually competitive level to maximise cost-effectiveness for our customers.
If you have any further questions about this product, please feel free to contact one of our specialist team by clicking here.
No resources currently available
Delivery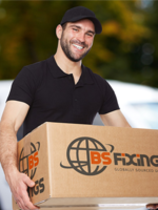 Free delivery
We offer free delivery for all orders over £50 (ex VAT). (UK Mainland Only).
Standard Delivery
Is offered to UK mainland customers. You will receive an email where you can confirm the delivery price if you are happy with it. Different package weights will have different prices.
International Delivery
We deliver all across the globe using a highly trustworthy courier. At the checkout stage, select the country that you would like the goods to be delivered.Then you will receive an email where you can confirm the delivery price if you are happy with it. Different countries will have different lead times and prices.
Delivery Charges
Below is the standard tariff for guidance purposes. Actual costs will be confirmed at point of sale and any variances you will be notified within 24 working hours of receipt of order.
The deliveries below are for mainland UK, for Highlands, Channel and offshore islands an extra charge per consignment will be applied as below, we can also arrange Saturday delivery at extra cost.
Next day delivery for orders under £50 (ex VAT) – £5