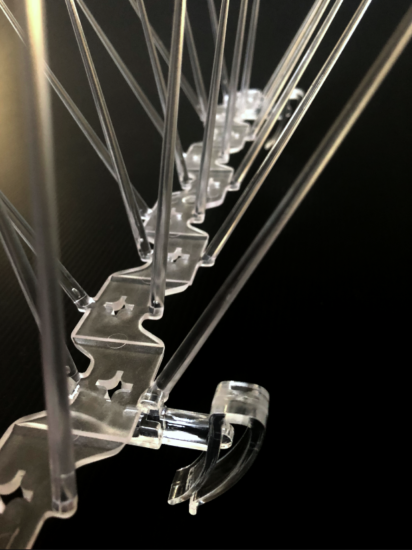 Protecting the gutter of a property is extremely important and BS Fixings offer a wide range of products to help including EasyFix Gutter Guard and rise and fall brackets. We have recently added a new product to help with protecting gutters: bird prevention gutter spikes.
Gutters are commonly chosen by birds as a place to perch; the high elevation allows them to easily spot predators and potential feeding sites. If a bird chooses to make its nest in such a place, it can cause a blockage which leads to all sorts of problems, from flooding and water ingress to the growth of mould colonies. It is therefore crucial to prevent birds from gaining access to gutters and bird prevention spikes are the ideal method.
Gutter spikes from BS Fixings are made from tough, durable plastic. By simply clipping them onto the outer edge of the gutter, you can create an effective barrier against bird access, preventing any problems and allowing water to flow freely beneath. Birds cannot land in gutters installed with these spikes and, as no contact is made between bird and spike, they do not cause any injuries or discomfort.
Each metre length of gutter spike comprises three sections which can be further reduced in size as required. The sections consist of four rows of five pins, all of which protrude at angles to prevent birds from gaining access to the gutter. Designed to easily attach to half-round plastic guttering or plain hoppers using intergal clips, gutter bird prevention spikes from BS Fixings do not require the use of any special equipment or tools for successful installation and can be quickly removed if maintenance is necessary.