Gutter Spikes For Bird Prevention - 1 Metre Pack
Gutter Spikes For Bird Prevention - 1 Metre Pack
Our Gutter Spikes are designed to keep birds and pigeons out of gutters. Sold per metre (3 x 334mm sections). From: £4.17 per section (Ex. VAT)
Bulk discounts available 
Qty




Price (Excl.VAT)




Price (Incl.VAT)

5+

£14.26

£11.88

save

5

%
15+

£13.50

£11.25

save

10

%
25+

£12.72

£10.60

save

15

%
Gutter Spike for bird prevention. Sold per metre (3 x 334mm sections). 
Our Gutter Spikes are designed to keep birds and pigeons out of gutters. Birds commonly choose gutters for a perfect place to roost and perch. The high up areas help them to be aware of predators and feeding sites. Unfortunately, nests can block the gutter causing flooding and water ingress to the property. Our Gutter Spikes clip onto the outer edge of the gutter, providing a barrier against pigeons trying to gain access. This will prevent any issues in the gutters, whilst still allowing for free-flowing water beneath. 
Length & Sizing
The Bird Spikes are sold in metres. Each metre consists of three 33.4 cm (13 inches) sections. For shorter lengths, the base of the product can be snapped into lengths from just 3cm (1 inch) long.  
Each section of gutter spikes (33.4cm) is made up of 4 rows of 5 pins (see pictures above), which protrude at different angles making it extremely difficult for birds to gain access to the gutter. The front of the average terraced house has approx 5 metres of standard round gutter. 
Our Gutter Spikes will fit all standard half round plastic guttering or hoppers that do not have a lip or ornate design on the front edge.
Humane
All of our bird spikes are humane. The spikes simply act as a barrier, making it difficult for pigeons or birds to land on the ledge. The plastic spikes do not cause injuries to the birds as no contact is made. 
How to Install
Simply press the Gutter Spikes onto the guttering lip, using the integral plastic clips (shown on the above picture). The clips are on the outside edge of the guttering, positioning the bird spikes in the centre of the gutter. 
No extra tools or silicone adhesive is needed to fix the gutter spikes in place, as the gutter clips have a secure tight fit. This also makes it very easy when removing the Gutter Spike when the gutter needs cleaning or dead leaves need removing. When cleaned, the gutter spikes simply clip back into position. 
There is a £10 minimum order spend.
Delivery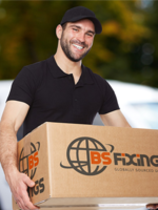 Free delivery
We offer free delivery for all orders over £50 (ex VAT). (UK Mainland Only).
Standard Delivery
Is offered to UK mainland customers. You will receive an email where you can confirm the delivery price if you are happy with it. Different package weights will have different prices.
International Delivery
We deliver all across the globe using a highly trustworthy courier. At the checkout stage, select the country that you would like the goods to be delivered.Then you will receive an email where you can confirm the delivery price if you are happy with it. Different countries will have different lead times and prices.
Delivery Charges
Below is the standard tariff for guidance purposes. Actual costs will be confirmed at point of sale and any variances you will be notified within 24 working hours of receipt of order.
The deliveries below are for mainland UK, for Highlands, Channel and offshore islands an extra charge per consignment will be applied as below, we can also arrange Saturday delivery at extra cost.
Next day delivery for orders under £50 (ex VAT) – £5