Bluebird 'Easyfix' Gutter Guards - Box of 10 1.2 metre lengths
Bluebird 'Easyfix' Gutter Guards - Box of 10 1.2 metre lengths
1.2-metre galvanised steel guards sold in packs of 10. Designed to fit 4" standard gutters.
Sold in packs of 10.
Gutter guard designed to fit 4" standard gutters.
Please note the current lead time is 5 - 7 working days
Each guard is 4ft (1.2 metres) long and each pack contains 10 guards.
Made from 1/2" square mesh
Many problems may occur in your gutter. The problems stated below can easily be prevented using our Gutter Guard:
Rotting fascias and soffits - Overflowing water will cause fascias to rot, necessitating replacement. Gutters full of standing water are heavy and add stress to soffits and fascias, risking malfunction and collapse.

Moss formation - Water filled with organic matter such as leaves and twigs will enable the rapid growth of moss and algae, a smelly and unsightly addition to the aesthetic of your home.

Pest infestations - All sorts of creepy crawlies are attracted to puddles of standing water in gutters. Squatting rodents are also attracted to the convenient ponds filled with rotting debris.

Leaks - If the water in a gutter freezes, it can widen the gap between the roof and shingles. When it thaws, there is a perfect gap left for water to ingress the property.

Slipping hazards - Water that has overflowed and collected on a pathway may freeze, posing a significant risk of injury from slipping.

Floods - One of the most common causes of floods in cellars and basement conversions is pooled water that has run off from a clogged gutter. To protect the underneath, you have to look up first!

Damaged driveways - Pooled water on driveways will create sagging areas that eventually become cracks and potholes. Not only posing a tripping risk, but a driveway in this condition also won't do your vehicle any good either.

Penetrating damp - The walls of a structure are porous and some of the water from an overflowing gutter that runs over them will be absorbed. This can penetrate right through to the interior of the property, damaging decorative surfaces, compromising structural integrity and providing an ideal habitat for mould growth.
If you would like to find out more about this product, or any others, please feel free to contact one of our specialist team by clicking here. 
*Please note that this product can't be bought with next day delivery. Please allow approximately 3 working days for the delivery of this product.
No resources currently available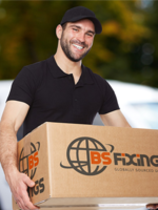 Free delivery
We offer free delivery for all orders over £50 (ex VAT). (UK Mainland Only).
Standard Delivery
Is offered to UK mainland customers. You will receive an email where you can confirm the delivery price if you are happy with it. Different package weights will have different prices.
International Delivery
We deliver all across the globe using a highly trustworthy courier. At the checkout stage, select the country that you would like the goods to be delivered.Then you will receive an email where you can confirm the delivery price if you are happy with it. Different countries will have different lead times and prices.
Delivery Charges
Below is the standard tariff for guidance purposes. Actual costs will be confirmed at point of sale and any variances you will be notified within 24 working hours of receipt of order.
The deliveries below are for mainland UK, for Highlands, Channel and offshore islands an extra charge per consignment will be applied as below, we can also arrange Saturday delivery at extra cost.
Next day delivery for orders under £50 (ex VAT) – £5