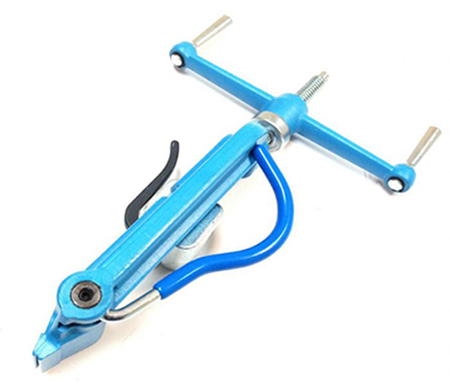 Following our recent news post about our new banding products, we thought it would only make sense to comprise a list of our top banding tools, for all your banding needs!
Here at BS Fixings, we stock and manufacture the highest quality banding tools, designed to be durable and of excellent value for money. We have a variety of banding tools available on our website, which can be used for a range of purposes. It was difficult to choose only three, but we managed in the end! Find below our top 3 banding tools…
Of course, in number one position is our best-selling Bandfix® Banding Tool which is useful for stainless, galvanised, and carbon steel banding and buckles. This tool is designed with a spinning handle to easily tighten banding and strapping in place, and for that reason, it is also known as a 'Whirley Bird' bander. It has been manufactured with a spring-loaded grip lever for ease of use and has been coated in a blue epoxy powder to resist corrosion.
Our Bandfix® Banding Tool is in a high position because it can be used for an endless number of applications, no matter how small or large the project is. For example, it can be used with our Bandfix® Sign Banding to fix signs in place, as well as with our Bandfix® SafeEdge band to secure metal jacketing.
In second position, we have the Bandfix® Bantam Banding Tool, which has been designed for fast tensioning and cutting of stainless steel strapping. If you're struggling to reach those tighter spaces with minimal access, this tool might be the one for you! We have created this tool with a 3-way handle, that can adjust for one or two-handed tensioning and cutting, known as a 'pistol grip'. Just like our standard banding tool, the Bantam is Zinc plated to resist against corrosion.
Our last but not least favourite banding tool is our Bandfix® Giant Banding Tool, a tool used for larger applications, as it states in the name! Also known as a 'Whirley Bird' bander because of its spinning handle, this tool can be used with larger stainless steel banding and strapping from 19mm upwards, with a maximum width of 32mm. Again, this tool is coated in a black epoxy powder to prevent it from corrosion, providing you with a hard-wearing and long-lasting tool.
Hopefully, this list of our favourite banding tools will help you find the right one for you! However, we have only managed to include three, if none of these meet your requirements, we have many more available on our banding page for you to take a look at. Here at BS Fixings, we are experts in what we do and therefore you can rely on us for high-quality products and excellent customer service. If you wish to speak to one of our team members for more information about our banding tools, please contact us today and we will be happy to help.