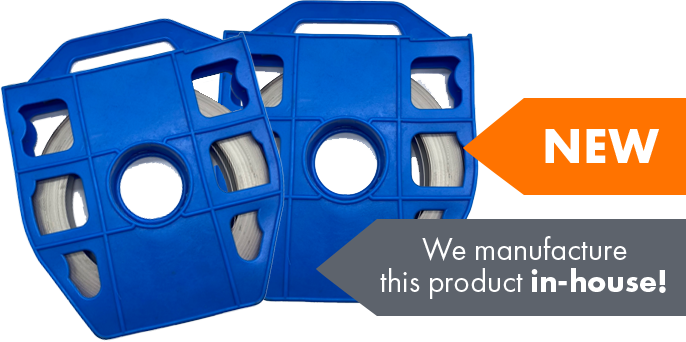 We are delighted to announce that we've recently added a brand-new product to our ever-expanding banding range, which already seems to be a popular item amongst many! Our latest addition, The Bandfix® Stainless Steel Banding in Dispensing Reel, is a high-quality product designed to meet all of your banding demands.
Unlike the original banding, which is supplied inside of an easy-to-carry cardboard box, our new and improved version, is dispensed from an extremely durable, re-usable, plastic reel which is ideal for use in all working environments. Manufactured in-house, our new reel is made from a robust material that can withstand extreme weather conditions and can be re-filled once the banding inside has been used. We have designed this product to be lightweight, making it easy to use and easy to transport, and just like our other Bandfix® band products, this comes supplied with a safe edge, to ensure safe handling when undertaking your tasks. Available in 304 and 316 stainless steel grades, and with a length of 160'ft (approximately 50m), our Bandfix® Dispensing Reel is a fantastic option!
However, it does not stop there, we have also introduced some new 20kg banding coils to our range. Our Bandfix® Stainless Steel Banding 20kg coils are now available to purchase on our site and provide a perfect solution for many applications, including insulation, banding cables, and strapping. Again, we manufacture this product in-house, delivering you high-performing banding that is easy to use and of great value.
Make sure to view our banding products page on our website, to find more information about our new additions and the rest of our banding products. Here at BS Fixings, we only manufacture top-quality products that you can buy directly from us, saving you both money and time.
Back in Stock!
On a final note, our best-selling Bandfix® Banding tool is coming back into stock this month, so keep your eyes peeled. If you require a new banding tool or need a restock of your favourite item, make sure to grab our Bandfix® Banding tool whilst stock lasts! This tool can be used for numerous applications, including everything from sign banding and cable tying to metal jacketing and heavier insulation purposes; the list is endless.
Here at BS Fixings, we are a UK manufacturer of Bandfix® products, delivering our customers with only the best of the best, which is why our products sell out fast! If you wish to find out more information about our expanding product range, feel free to contact us and our team will be more than happy to help.