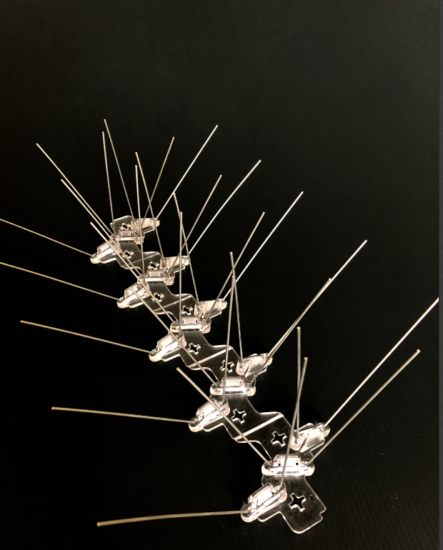 Bird Prevention Spikes are a safe, economical and totally humane way to deter birds of all kinds from landing on aerials, signs, gutters, chimneys, ledges, parapets, girders and any other structural component. Here, with our short step-by-step guide, we show you just how quick and easy it is to install bird spikes.
As with all construction projects, it is absolutely crucial to correctly prepare in order to achieve the most professional result. When installing bird spikes, preparation involves nothing more than thoroughly cleaning the area, which should be carried out using Germ Clear Disinfectant Spray (available from the BS Fixings website).
Cut open a container of Silicone Fixing Adhesive (available from the BS Fixings website) before attaching the application tube.
Place the tube into a quality caulking gun.
Apply adhesive in a thin bead, making sure to cover the entire length of the spike's base. The clear adhesive has been specially formulated to be resistant to corrosion and UV radiation, giving it a useful life expectancy of around 35 years.
Press the spike into place firmly; the adhesive will ooze through silicone locking holes in the base of the spike. The spikes can been stuck to almost any surface, including concrete, steel, glass, wood and brick.
The spike will be immediately locked into place by the rapid-drying adhesive, though it takes 24 hours to fully cure.
During this time, the silicone in the adhesive reacts with the spike base (which is made from polycarbonate), delivering a lasting hold that, while guaranteed to be ultra-strong, is designed to accommodate the natural flexing movements of the structure.
Discover the full range of bird prevention products on the BS Fixings website and don't forget that all orders over £50 (exc. VAT) are delivered absolutely free.