Pipe Spikes For Bird Prevention - 1 metre Pack
Pipe Spikes For Bird Prevention - 1 metre Pack
Humaine Bird Spikes, Designed to prevent pigeons and other birds from landing on pipes around your home or business. Sold per metre (3 x 334mm sections) From: £3.79 per section (Ex. VAT)
Bulk discounts available
Qty




Price (Excl.VAT)




Price (Incl.VAT)

5+

£12.10

£10.08

save

11

%
15+

£12.28

£10.23

save

10

%
25+

£10.56

£8.80

save

23

%
Pipe Spikes For Bird Prevention. Sold per metre (3 x 334mm sections). 
This product comes ready assembled with integral serrated cable ties for easy installation. 
Suitable for all types of pipes: drainage pipes, heating, air-conditioning and even pipes covered with lagging.
The attaching strap will wrap around any pipe with a circumference of 2.5 - 15 cm (1 - 6 inches).
The sturdy pipe spike has a 3 mm thick UV stabilised polycarbonate base, ensuring a long life expectancy! 
The spikes are made from grade 304 stainless steel, ensuring no rusting will occur and rust marks are not left on your property. 
Designed to prevent pigeons and birds from landing on pipes around your home or business. Considerable mess and damage can be caused from birds roosting or nesting on pipes, therefore it is very important to prevent this from happening. The Pipe Spikes are a new invention in the bird control industry. Each 334mm section has 10 protruding stainless steel pins (1 metre = 30 pins). The Pipe Spikes are fixed into position by straps - no glue or additional tools are required.
Sizing 
The Bird Spikes are sold in metres. Each metre consists of three 33.4 cm (13 inches) sections. For shorter lengths, the base of the product can be snapped into lengths from just 3cm (1 inch) long. 
Humane Product
All of our bird spikes are humane. The spikes simply act as a barrier, making it difficult for pigeons or birds to land on the ledge. The plastic spikes do not cause injuries to the birds as no contact is made. 
Installation
Tried and tested on piping that has a diameter of up to 15 cm (6 inches). Each 334mm section has two pre-attached cable ties fastened into the base. These can then be wrapped around the pipe and tightened securely into place. The cable ties are serrated, so slippage will not occur, even on smooth surface areas. No additional silicone or tools are required, which makes for easy and fast installation. 
There is a £10 minimum order spend.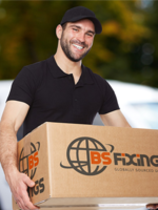 Free delivery
We offer free delivery for all orders over £50 (ex VAT). (UK Mainland Only).
Standard Delivery
Is offered to UK mainland customers. You will receive an email where you can confirm the delivery price if you are happy with it. Different package weights will have different prices.
International Delivery
We deliver all across the globe using a highly trustworthy courier. At the checkout stage, select the country that you would like the goods to be delivered.Then you will receive an email where you can confirm the delivery price if you are happy with it. Different countries will have different lead times and prices.
Delivery Charges
Below is the standard tariff for guidance purposes. Actual costs will be confirmed at point of sale and any variances you will be notified within 24 working hours of receipt of order.
The deliveries below are for mainland UK, for Highlands, Channel and offshore islands an extra charge per consignment will be applied as below, we can also arrange Saturday delivery at extra cost.
Next day delivery for orders under £50 (ex VAT) – £5