Stainless Steel Tying Wire Grade 304 - 1kg coils
Stainless Steel Tying Wire Grade 304 - 1kg coils
Stainless Steel Tying Wire. Sold in 1kg coils
Stainless Steel Tying Wire
Grade: 304
Coil weight: 1kg per coil
Meterage: Dependant on diameter. Please see table below. 
Ideal for lacing, tying, or sculpting.
Our annealed stainless steel tying wire can be used for a wide variety of applications. It is soft and malleable so it can be bent, twisted and tied with ease. Typical applications are for insulation, re-bar, fencing, cables, hangers, garden work and general tying applications were a good quality durable wire is required.
Grade 304/A2 (1.4301) is the most popular grade of stainless steel and is an ideal grade for everyday applications, easy to form and long lasting. Stainless Steel 304 / A2 has good corrosive resistance in every day applications and is superior to other materials like Galvanised steel.
Available diameters are as follows:
| | |
| --- | --- |
| Diameter (mm) | Approx Meterage (m) |
| 1.6 mm | 60 metres |
| 1.2 mm | 110 metres |
| 1.0 mm | 160 metres |
| 0.9 mm | 195 metres |
| 0.7 mm | 320 metres |
| 0.6 mm | 530 metres |
 (Note - These are only approximate)
Delivery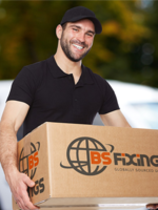 Free delivery
We offer free delivery for all orders over £50 (ex VAT). (UK Mainland Only).
Standard Delivery
Is offered to UK mainland customers. You will receive an email where you can confirm the delivery price if you are happy with it. Different package weights will have different prices.
International Delivery
We deliver all across the globe using a highly trustworthy courier. At the checkout stage, select the country that you would like the goods to be delivered.Then you will receive an email where you can confirm the delivery price if you are happy with it. Different countries will have different lead times and prices.
Delivery Charges
Below is the standard tariff for guidance purposes. Actual costs will be confirmed at point of sale and any variances you will be notified within 24 working hours of receipt of order.
The deliveries below are for mainland UK, for Highlands, Channel and offshore islands an extra charge per consignment will be applied as below, we can also arrange Saturday delivery at extra cost.
Next day delivery for orders under £50 (ex VAT) – £5