Plastic Narrow Bird Spikes 6 Metre Pack
Plastic Narrow Bird Spikes 6 Metre Pack
Pack of 6 metres. Includes fixings silicone glue and 40-page guide.
Qty




Price (Excl.VAT)




Price (Incl.VAT)

5+

£44.40

£37.00

save

5

%
10+

£40.80

£34.00

save

13

%
Plastic Narrow Bird Spikes 6 Metre Pack
This pack includes:
6 metres of Plastic Narrow Bird Spikes
Fixing silicone glue
40-page guide
Our plastic narrow bird spikes are used to prevent pigeons and other birds from landing and roosting on ledges up to 100mm (4 inches) in depth. Made from strong UV stabalised polycarbonate to protect it from the sun's rays. The spikes are very discreet and virtually invisible from the ground when installed.
This product can be used on window sills, ledges, fences, pipes and walls.
The silicone glue included in this pack will adhere to metal, plastic, wood, stone, brick and most other surfaces. The glue will require a caulking gun which is not supplied in this pack.
This product is very quick and easy to install. All of our bird spike kits include a 40-page bird deterrent guide with an in-depth guide to installing the spikes. It is useful to use this guide when installing the bird spikes.
Installation tips:
Prior to installation, ensure that all ledges are clean and dry - our Bird Dropping Disinfectant Spray is perfect for ensuring surfaces are free from bird droppings. Find it here - https://bsfixings.uk/bird-droppings-disinfectant-spray?cat=300176
Squeeze the Fixing Silicone (included in this kit) along the base of the spikes. Press the base onto the surface so that the silicone glue oozes through the holes in the base of the bird spikes.
If you require any further assistance pelase do not hesitate to contact us and one of our specialists will be happy to help.
No resources currently available
Delivery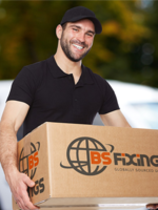 Free delivery
We offer free delivery for all orders over £50 (ex VAT). (UK Mainland Only).
Standard Delivery
Is offered to UK mainland customers. You will receive an email where you can confirm the delivery price if you are happy with it. Different package weights will have different prices.
International Delivery
We deliver all across the globe using a highly trustworthy courier. At the checkout stage, select the country that you would like the goods to be delivered.Then you will receive an email where you can confirm the delivery price if you are happy with it. Different countries will have different lead times and prices.
Delivery Charges
Below is the standard tariff for guidance purposes. Actual costs will be confirmed at point of sale and any variances you will be notified within 24 working hours of receipt of order.
The deliveries below are for mainland UK, for Highlands, Channel and offshore islands an extra charge per consignment will be applied as below, we can also arrange Saturday delivery at extra cost.
Next day delivery for orders under £50 (ex VAT) – £5