Stainless Steel Washer Box of 100
Stainless Steel Washer Box of 100
A2 Stainless steel penny washers. Sold in boxes of 100
Simple penny washer. Made from grade 304 (A2) stainless steel for good corrosion resistance. Supplied in boxes of 100.
Grade A2 stainless steel is far more corrosive resistant than if the washer was manufactured using mild steel. This is due to the added chromium in the stainless steel. Another key factor to why stainless steel is used to manufacture this product is because of it's very good resistance to wear and tear.
Penny washers are the most common kind that you're likely to come across and they generally serve three distinct purposes:
The distribution of nut/bolt pressure evenly over the part to be secured, reducing the chance of it being damaged

The provision of a smooth, level surface for the nut/bolt to bear upon, reducing the likelihood of loosening due to uneven fastening surfaces

Creating an effective seal against water ingress (these are then known as plumbing washers)
Two other purposes that washers are used for, though this is not a proper usage and can be dangerous to health and/or damaging to property, are:
To permit bolts/nuts of insufficient size to be used in the holes of a secured part

To facilitate the tightening of a nut/bolt that is too long for the job
No resources currently available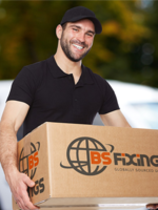 Free delivery
We offer free delivery for all orders over £50 (ex VAT). (UK Mainland Only).
Standard Delivery
Is offered to UK mainland customers. You will receive an email where you can confirm the delivery price if you are happy with it. Different package weights will have different prices.
International Delivery
We deliver all across the globe using a highly trustworthy courier. At the checkout stage, select the country that you would like the goods to be delivered.Then you will receive an email where you can confirm the delivery price if you are happy with it. Different countries will have different lead times and prices.
Delivery Charges
Below is the standard tariff for guidance purposes. Actual costs will be confirmed at point of sale and any variances you will be notified within 24 working hours of receipt of order.
The deliveries below are for mainland UK, for Highlands, Channel and offshore islands an extra charge per consignment will be applied as below, we can also arrange Saturday delivery at extra cost.
Next day delivery for orders under £50 (ex VAT) – £5