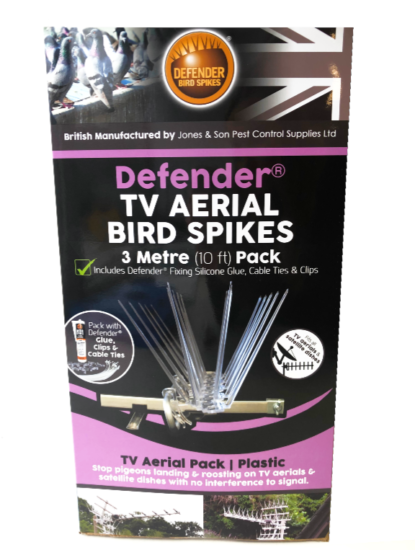 Birds can be a real pest in the workplace, especially in large warehouses and factories with open windows and doorways. Dealing with them can be a particularly complicated and expensive procedure.
There are a number of ways to deter birds from commercial, industrial, or residential buildings. Consider alternative door options. Use scare devices, eliminate attracting sources (usually food or nesting places), or install bird netting. If these don't work, you could always purchase a Peregrine Falcon, although for obvious reasons we wouldn't recommend that!
At BS fixings we stock an alternative and humane way of deterring birds. One that is almost invisible from floor height which is a Gel Disc that is placed around the building.
Invisible you say?
Bird Free® Gel discs are used to deter birds away from buildings without harming the birds. It is formulated so that birds see ultraviolet light and so it appears to them as fire. Visual deterrence is further reinforced by the selected natural foods contained in Bird Free® which are abhorrent to a bird's sense of smell. Birds will completely desert a habitat, even one they have been using for years, once Bird Free® has been applied. The dishes of Bird Free® are 65mm in diameter and 8mm high, making them, in most cases, invisible from street level.
They are very quick and easy to deploy with complete mess-free installation. They are completely humane, HSE authorised, and invisible from street level. The firm texture of the discs allows for use on angled surfaces and pitched roofs and the pre-dosed dishes make for a uniform finish.
These ready-to-use dishes can be fixed to surfaces using silicone. As well as buying these Bird Free® Gel discs from BS Fixings, you can also buy our Fixing Silicone Adhesive. One 310ml tube of fixing silicone is sufficient to install up to 90 discs of Bird Free® Gel.
Where isn't it used?
Bird Free® is widely used throughout Europe, Asia, the Middle East, Africa, and the Americas. It has been used on recognised buildings such as King's Cross Station (UK), Volkswagen and Airbus plants, Berlin Airport (Germany), Manchester Victoria Station (UK), Glasgow City Chambers (UK), Helsinki Railway Station (Finland), Palazzo Venezia (Rome), La Chiesa dell Spina (Pisa), Salisbury Cathedral (UK), and Bristol Temple Meads Station (UK).
It is essential to clean the application site before Bird Free® is applied. To do so, our Bird Droppings Disinfectant Spray can be used to clean the surfaces before applying. Simply remove the covers from the dishes and affix discs to dry surfaces, in accordance with spacing guidelines available here, with silicone or other removable adhesives.
If you would like more information about this product, please do not hesitate to get in touch with our specialist team.