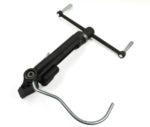 The Bandfix collection of stainless steel banding products, created by our parent company BS Stainless and used all over the world in major commercial projects, includes a comprehensive collection of banding tools. For a limited time, you can save 20% across the collection, which includes:
A signature product, this is our standard Bandfix banding tool designed to quicjly and reliably fix banding and strapping. Also known as a 'Whirley Bird Bander' due to the rotating operation used to tighten banding, this tool is ideal for most banding applications including sign fixing, cable bundling and securing insulation. Each drop-forged, heat-treated tool includes an integral cutter to cut off spare banding and features a spring-loaded grip level to make using it a matter of simplicity. Check out our YouTube video for details on how to use this product.
A super-sized version of the product described above, the Bandfix Giant Banding Tool boasts all of the same specifications but is suitable for use with large banding and giant buckles up to 11/4". This tool is obviously heavier at 5kg as opposed to the 2kg weight of the standard banding tool.
When working to tight time constraints and/or in areas with minimal or awkward access, the Bantam Banding Tool from Bandfix provides a reliable solution. The versatile tool can be quickly adjusted for rapid one- or two-handed tensioning and cutting thanks to its innovative three-way handle: it is this handle that gives rise to the Bantam's 'pistol grip' nickname. Zinc-plated, this tool offers the ultimate in resistance to corrosion.
Whether used to apply galvanised steel, carbon steel or stainless steel banding, the Bandfix Tensioner Tool guarantees to deliver the most professional results. Compared to standard tools, the Tensioner is quicker to use due to the fact that they are windless, of a much lighter weight and small enough to easily fit in a standard tool belt. Each tool seamlessly incorporates the hammer that is required to form the clip of a wing seal tightly against the banding.
Order soon to take advantage of your 20% discount across our range of Bandfix banding tools!