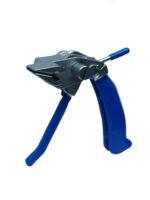 Stainless steel banding is an extremely versatile product, with many uses across the spectrum of industry. Installing the product is simple when you use banding tools from BS Fixings: below is a quick guide to the different types we supply.
Designed for the fast tensioning and cutting of all grades of stainless steel banding up to 20mm in width, the Bantam Banding Tool is an essential part of our Bandfix range. The tool includes a unique 3-way handle described as 'pistol grip', adjustable for either single or two-handed use. Loading and removing material is made easy and the Bantam is perfect for use in areas of limited or restricted access. Zinc plating ensures the tool is highly resistant to corrosion.
Due to the way in which this tool tightens steel banding, it is often referred to as a 'whirley bird' bander. These tools are in regular use at oil & gas plants for metal lagging and cladding applications, where banding is used to hold metal securely around tanks and pipework. Typical uses in the municipal sector include tensioning sign banding and street furniture such as bins though it is also perfect for tensioning banding around cables and for packing.
A larger version of the standard banding tool, the giant version can be used with banding of up to 32mm in width.
In comparison to the standard banding tool, the tensioner tool delivers faster, more efficient operation. This is due to the fact that they are windless and of a lighter weight, perfect for carrying in a tool belt. The Tensioner tool can be used with stainless, galvanised or carbon steel banding and include cutter and hammer. Epoxy coated handles allow for the best grip.