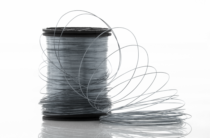 Stainless steel tying wire is an incredibly versatile material and so is used across a vast array of applications. Malleable yet strong and durable, the product is also known as stainless steel lacing wire and is supplied in a comprehensive variety of grades, widths and lengths by BS Fixings. And don't forget Black Friday, when everything on our website, including tying wire, will be available with a cool 10% price discount.
The scope of application for stainless steel tying wire is incredibly broad but typically includes fencing, hanging, cable work, securing rebar and garden applications. A major industrial use is in insulation where stainless steel tying wire is used to retain thermal materials, such as mineral wool, beneath the crucial metal jacketing of the system. A more commercial use is for tying together stainless steel rebar used in construction. Stainless Steel is resistant to corrosion which means that the wire is less likely to stain the concrete with rust marks, something that would look unsightly on anything from a bridge to a bay window.
On the domestic front, tying wire is especially useful in the garden, where you will soon find that it can facilitate more jobs than you bought enough wire to do! Don't worry though because the BS Fixings website is always available with the best quality and the best price. On top of that, we will deliver it before you can say 'stainless steel' so your downtime is kept to a minimum.
The standard type of stainless steel lacing wire sold by us is of grade 304/A2, which is the most popular as it is suited to most standard applications. Easily-formed and with an impressive durability, tying wire of this grade displays good resistance to corrosion, making it superior to other wire materials such as galvanized steel. In addition for more corrosive environments 316 can be supplied from stock in larger coils.
We would love to know what our customers are using their tying and lacing wire for. As the biggest supplier of stainless steel wire in the UK, we send out literally thousands of miles of the stuff every year and it would be great to see where some of it ends up. Send us your emails and photos today!