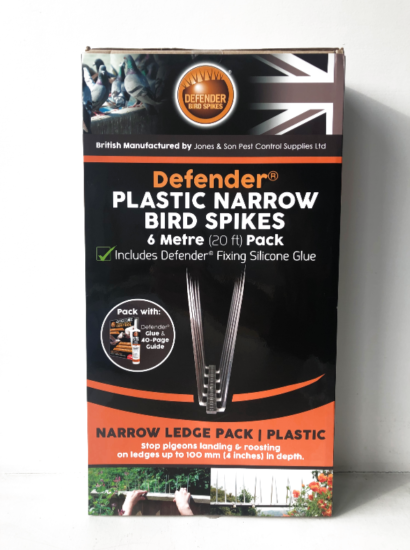 Bird Prevention Spikes are a safe, cost-effective and completely humane method of deterring birds from landing on ledges, parapets, girders, aerials, signs, gutters, chimneys and indeed any other part of a structure. For a limited time, the full collection of Bird Spikes is currently available from BS Fixings with a 10% price discount.
Here we show you just how easy it is to install bird spikes with our short step-by-step guide.
As with any construction project, it is absolutely essential to prepare correctly to achieve a professional result. With bird spikes, preparation involves simply cleaning the area, which should be carried out using Germ Clear Disinfectant Spray (this product is also available from BS Fixings: check out this week's edition of our blog for more information)
Cut open the container of Silicone Fixing Adhesive (also available on the BS Fixings website) and attach the application tube, before placing into a quality caulking gun. This clear, specially-formulated adhesive is UV stabilised, resistant to corrosion and has a life expectancy of at least 35 years. It is safe and effective when used on almost any surface, including wood, steel, glass, brick and concrete
Apply adhesive in a thin bead, right along the entire length of the base of the bird spike
Press the spike firmly into place, allowing the adhesive to ooze through the silicone locking holes in the base
The fast-drying adhesive will immediately lock the spike into place
The adhesive takes around 24 hours to fully cure. During this time, the silicone in the formula reacts with the polycarbonate spike base, ensuring a lasting hold that accommodates natural flexing
Save 10% across our range of bird spikes and bird prevention solutions but hurry: sale ends on the 16th of August!