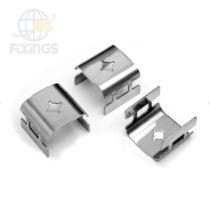 At BS Fixings, we are always looking at new ways to make life easier for our customers and part of this commitment involves bringing new products to our portfolio. Before we decide to make a new product available, we subject it to lots of testing to make sure it is fit for purpose; only then do we add it to our website for you to order.
The latest new product to make the grade is Stainless Steel Trunking Clips and these versatile fixings are now available to order from our website. Designed to slot neatly into standard 25 x 16mm trunking, the clips have been manufactured using the highest quality stainless steel of 430 grade.
Trunking clips are designed for fixing cables though we are sure that our savvy customers will find other uses for them as well. Once slotted and clipped in, the fixings screw easily through the plastic trunking to create the necessary fixing. When used correctly, the trunking clips will comply rigidly with the regulations laid out in BS 7671.
Stainless steel trunking clips are designed to screw size M8 and are sold in packs of 50. As with our entire product range, professional quality is guaranteed, along with the most competitive market price.
We offer a range of delivery options at BS Fixings. Our most popular option is for free next day delivery, which is offered on all orders over £50 (exc. VAT) on the UK Mainland. Simply place your order before 3pm on a working day and you will automatically qualify for free next day delivery.
A morning delivery service is now available on the UK Mainland and we can deliver your order before noon or, for an extra charge, before 10:30 am. There is also a Saturday delivery service available; different package weights are individually priced so please get in contact with us for further details about our Saturday delivery service.
Check out all the information about our new stainless steel trunking clips on the product page and get in touch with us if you need any more information.