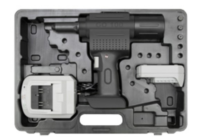 Winter hung around for way too long this year and it is only now, halfway through March, that spring is really starting to show its face. The return of sunshine in the mornings has given us all here at BS Fixings, the spring-cleaning bug and we are turning our HQ upside down as we get everything spick and span to welcome in the new season. Are YOU doing the same?
If the answer is a resounding 'YES!' then you might as well take it that one step further and get on with all those little DIY jobs you have been putting off 'until the weather gets better'. To do this, you're going to need trust-worthy tools and they don't come much better than Goebel - the company's Product of the Month is their GO-100 Accu-Tool, a drill that offers so many features and benefits that it's hard to know where to start and what to include! One thing that isn't difficult is knowing where to buy a spare drill bit (HSS CO-SPOT Drill Bit) at the best price - BS Fixings of course!
So, what's so good about the GO-100?
The handy and versatile power tool weighs just 1.7kg and is a compact 27.3cm x 28.5cm in size

Made from Acrylonitrile Butadiene Styrene thermoplastic polymer (that's ABS to you and me - it's tough stuff and will protect the delicate inner workings of the tool for years to come)

Boasts a 20mm stroke and 12.000N traction power

Features a quick-change battery system to reduce downtime and improve efficiency

Supplied complete with ABS case and Li-Ion charger
When you're using a tool of such accuracy and power, it is of course essential to use quality auxiliaries such as drill bits. We stock a select range of these products in order to further facilitate your work, whether you are simply renovating at home or are giving your small commercial premises a makeover. One of the best-selling items in the range is the Goebel HSS-Co-spot-drill bit/Machine Split-Point, which is fully ground for stainless steel - cylindrical, one-sided, type N, special short, right-hand cut. Available now at the most competitive price from BS Fixings, you will not find a better drill bit collection on the market.
To find out all you need to know about drill bits from Goebel, click here to go to the product section!