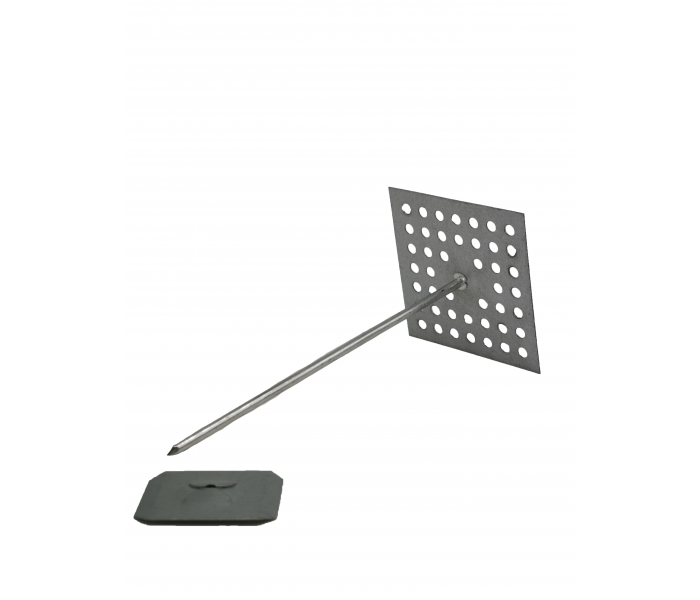 Once again, BS Fixings is proud to announce the launch of a new product to our ever-expanding range of stainless-steel products.
This time our new product is a stainless steel perforated base insulation pin manufactured out of 304 grade stainless steel which is available in sizes from 25mm up to 165mm long. The base plate is 50mm square and the pin has a diameter of 2.7mm for all lengths of pins. The lock washer is 30mm and all 3 components are manufactured from stainless steel. We already stock and supply an aluminium version of the product, the Perforated Base Insulation Hanger, but following on from enquiries from our customers, and having noticed the industry trend of moving to stainless steel, our purchasing department jumped on the case and has secured a long term agreement to purchase and supply this new stainless steel version for our clients. Most sizes are supplied in boxes of 500, except size 140mm and 165mm which are supplied in boxes of 250 units.
Sometimes referred to as install pins, or hanger pins, insulation hangers are used to firmly secure insulation material in cladding and sheeting systems and are already one of our best-selling products, even before the inclusion of the stainless-steel options.
At the point of writing, our team is just in the process of finalising another new product which will be a self-adhesive version of the stainless steel perforated base insulation pin, where the metal base will be available with a ready-to-use 'peel and stick' backing. Currently, the standard version has a perforated base ready to be bonded with suitable adhesive. A self-locking washer (clip or dome) is applied over the protruding spindle as part of 3-piece system to retain the insulation.
As soon as this self-adhesive version is in stock, we will be announcing its arrival on our website. We are also working on launching options in galvanised steel to offer our customers a diverse range of materials for their insulation hanging projects including aluminium, stainless steel, and galvanised steel.
If you have any questions, please call our technical team for assistance, they will be more than happy to help.