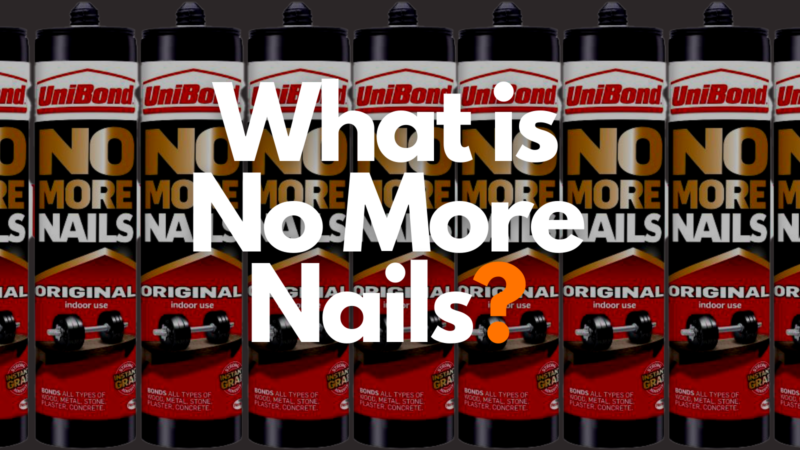 No More Nails is a general-purpose construction adhesive manufactured by UniBond. It's a 'gunnable', synthetic rubber-based adhesive that exhibits excellent green* strength, flexibility, good temperature resistance and good slump resistance. Oh, and as the name implies, is a nail-free general construction adhesive. That's right. No More Nails.
The UniBond No More Nails range consists of a variety of grab adhesives developed to complete any DIY job, both indoors and outdoors. No More Nails is available in cartridges, tubes, mini tubes, rolls, and strips along with the new ready-to-use applicator.
Where've I seen that before?
The No More Nails brand first appeared on television in 1997, proving to be an instant hit. Since the brand's launch in 1996, No More Nails has helped develop an instant grab adhesive market category worth just over £28m a year. No More Nails products make up 55 per cent of those sales.
NMN has plenty of uses and applications, including as a contact adhesive for the installation of wall and floor panels. It can be used as a general-purpose construction adhesive and for most bonding applications where a high-strength, gap-filling, one-component adhesive is required. It's suitable to use on foamed polystyrene and is perfect for mirror backed tiles. It's also handy for the installation of battens or other fixings to brick, masonry, or concrete walls.
No More Nails has a high bond strength, good temperature, slump, and chemical resistance. It also has excellent adhesion and sealing properties and bonds a variety of construction and building materials. It's also ideal for interior and exterior applications.
Where can I get it?
Here at BS Fixings, we stock a range of No More Nails products including the Unibond No More Nails Original Cartridge which is a high-strength adhesive that eliminates the need for nails, screws or plugs in many DIY building, crafting and repair jobs. With the highest ever instant grab available, it limits the need for temporary support on most heavy items.
If you would like to discuss our range of adhesives, or any products in our extensive range, then please contact our sales team or call 03330 117818.
*Green strength, or handling strength, can be described as the strength of a material as it is processed to form its final ultimate tensile strength. This strength is often much lower than the final ultimate strength of a material.